"Current outlook: uncertain."
This content is currently being modified on the Public Test Region.
Please refrain from editing the page to include the PTR changes until they are added to the live version of the game.

Amp It Up Continuous area

healing

/

buffing

type 

46.8 HP per second

 

35 HP per second

on self 

+60% movement speed

 12

m

radius Lasts 3 seconds 12-second cooldown

Lúcio increases the volume on his speakers, boosting the effects of his songs.

Default Key: (

,

,

)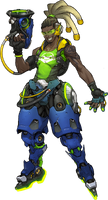 Details
For 3 seconds, Lúcio boosts the power of whichever song is playing on his Crossfade.
If the Healing song is active, the healing rate increases from 16.25 HP/s on allies and 13 HP/s on self to to 46.8 HP/s on allies and 37.5 HP/s on self.
If the speed song is active, the speed boost increases from 25% to 60%.
Patch changes
Community content is available under
CC-BY-SA
unless otherwise noted.