Amp It Up Continuous area

healing

/

buffing

type 

46.8 HP per second

 

35 HP per second

on self 

+70% movement speed

 12

m

radius Lasts 3 seconds 12-second cooldown

Lúcio increases the volume on his speakers, boosting the effects of his songs.

Default Key: (

,

,

)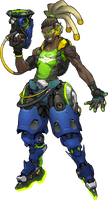 For 3 seconds, Lúcio boosts the power of whichever song is playing on his Crossfade.
If the Healing song is active, the healing rate increases from 16.25 HP/s on allies and 13 HP/s on self to to 46.8 HP/s on allies and 37.5 HP/s on self.
If the speed song is active, the speed boost increases from +30% to +70%.
Patch changes
Edit