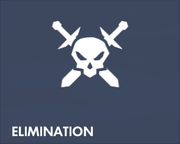 Arena is a broad term for several game modes in Overwatch.
In an Arena game, the goal is not to attack or defend a central objective, but to eliminate all members of the opposing team. Matches are played in several rounds, and players cannot respawn until the next round.
Arena has its own roster of smaller maps designed for direct confrontation. If a Custom Game is made, Arena can also be played on Capture the Flag maps.
Arena Gamemodes
The following gamemodes are available on the Arcade, albeit not all at the same time:
Maps
Reskin
Community content is available under
CC-BY-SA
unless otherwise noted.