Fire Emblem Warriors: Three Hopes - The Loop
Play Sound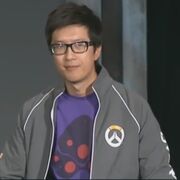 Arnold "Arn" Tsang is a member of Blizzard Entertainment. He was an assistant art director for Overwatch[1] and Overwatch 2,[2] and former lead character concept artist.[3] He is currently the character art director for Overwatch 2.[4]
Biography
[
]
Hailing from Toronto, Tsang originally worked in the comic industry while in high school; he got into American comics shortly after the 90s comics boom. At college, he studied classical animation. After graduation, he wasn't sure if he wanted to pursue either industry. Some of his friends who had graduated earlier pointed toward an opportunity to do concept art for video games. He decided to give it a shot.[5]
His work on Overwatch includes the hand-drawn artwork seen at the start of the game's cinematic trailer,[3] and he has worked on the production of the game's animated shorts.[6] He had formerly worked on Project Titan.[7]
References
[
]
↑ 2016-07-07, SDCC 2016 – Overwatch New Hero to be Unveiled. Blizzplanet, retrieved on 2016-07-08
↑ 2019-11-07, BlizzCon 2019 Overwatch 2 Panel Transcript. Blizzplanet, accessed on 2020-04-10
↑ 3.0 3.1 2015-05-27, BlizzCon 2014 – Overwatch Origins Panel Transcript. Blizzplanet, accessed on 2015-05-28
↑ 2021-02-20, BlizzConline 2021 | Behind the Scenes of Overwatch 2 | Overwatch. YouTube, accessed on 2021-03-13
↑ 2020-09-18, COMIC BOOK TRACER: CHEERS, LOVE! THE ARTIST'S HERE. Blizzard Entertainment, accessed on 2021-01-23
↑ 2016-12-17, BlizzCon 2016 Overwatch Animated Shorts Panel Transcript. Blizzplanet, accessed on 2017-01-07
↑ 2017-02-23, D.I.C.E Summit 2017 | Overwatch | Jeff Caplan (Stream with chat). YouTube, accessed on 2017-03-07