Barrier Projector Semi-immobile barrier type 700 barrier

HP

 5

m

radius Lasts 9 seconds or until destroyed 

13

-second cooldown

Winston's barrier projector extends a bubble-shaped field that absorbs damage until it's destroyed. Allies protected by the barrier can return fire from within it.

Default Key: (

,

,

)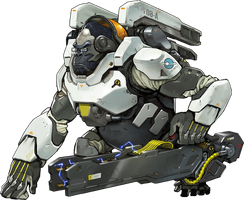 Details
For the information about attacks which is able to pierce through Winston's barrier, see Barrier.
Winston places down a projector that creates a sphere-shaped barrier which has 700 health and a radius of 5 meter around the projector. The projector is affected by gravity; If Winston deploys it in the air, it will drop straight down. The barrier can also be placed on moving objects. It will disappear after 9 seconds, and it can be destroyed earlier. The cooldown begins when the barrier is placed.
Patch changes
Community content is available under
CC-BY-SA
unless otherwise noted.