Line 1:
Line 1:
 
+

{{Quote|This is a SST Laboratories E54 Bastion. A real nasty piece of work. During the Omnic Crisis, even the best militaries in the world had trouble with them.|[[Torbjörn]]}}

 

[[File:Bastion-portrait.png|thumb|A Bastion E54]]

 

[[File:Bastion-portrait.png|thumb|A Bastion E54]]

 

The '''Bastion Siege Automaton E54''' is a type of [[omnic]].

 

The '''Bastion Siege Automaton E54''' is a type of [[omnic]].

Line 4:
Line 5:
 

==Background==

 

==Background==

 
 
−

Originally created by [[SST Laboratories]] for peacekeeping purposes, Bastion robot units possess the unique ability to rapidly reconfigure themselves into an assault-cannon mode.<ref name = "Bastion"/> The Bastion remains equipped with a sub-machine gun in bi-pedal form, and can access the databanks of other Bastion units.<Ref>''[[The Last Bastion]]''</ref> But during the [[Omnic Crisis]], they were turned against their human makers, forming the bulk of the omnics' rebel army. Following the resolution of the crisis, nearly all of them were destroyed or disassembled. To this day, Bastion units still symbolize the horrors of the conflict.<ref name = "Bastion">[https://playoverwatch.com/en-us/heroes/bastion/ Bastion], ''Blizzard Entertainment''. Accessed on 2017-05-07</ref>

+

created by [[SST Laboratories]] for peacekeeping purposes, Bastion robot units possess the unique ability to rapidly reconfigure themselves into an assault-cannon mode.<ref name = "Bastion"/> The Bastion remains equipped with a sub-machine gun in bi-pedal form, and can access the databanks of other Bastion units.<Ref>''[[The Last Bastion]]''</ref> the [[Omnic Crisis]], they were turned against their human makers, forming the bulk of the omnics' rebel army. Following the resolution of the crisis, nearly all of them were destroyed or disassembled. To this day, Bastion units still symbolize the horrors of the conflict.<ref name = "Bastion">[https://playoverwatch.com/en-us/heroes/bastion/ Bastion], ''Blizzard Entertainment''. Accessed on 2017-05-07</ref>

 
 
 

== Trivia ==

 

== Trivia ==
---
Revision as of 12:02, 27 February 2018
| | | |
| --- | --- | --- |
| " | This is a SST Laboratories E54 Bastion. A real nasty piece of work. During the Omnic Crisis, even the best militaries in the world had trouble with them. | " |
| | ~ Torbjörn | |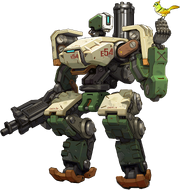 The Bastion Siege Automaton E54 is a type of omnic.
Background
The E54 was originally created by SST Laboratories;[1] Torbjörn Lindholm was among those who worked on their creation.[2] Originally created for peacekeeping purposes, Bastion robot units possess the unique ability to rapidly reconfigure themselves into an assault-cannon mode.[1] The Bastion remains equipped with a sub-machine gun in bi-pedal form.[3] It is immune to small arms fire, possesses a self-repair function,[2] and can access the databanks of other Bastion units.[3] They were programmed to fight against any odds until they were shut down.[2] During the Omnic Crisis, they were turned against their human makers, forming the bulk of the omnics' rebel army.[1] Even the world's best militaries had trouble dealing with them, and the Bastions never retreated in battle, simply advancing on the enemy until they were destroyed.[2] Following the resolution of the crisis, nearly all of them were destroyed or disassembled. To this day, Bastion units still symbolize the horrors of the conflict.[1] In the decades following the war, many false sightings of Bastion units were reported in Sweden and/or other European countries.[2]
Trivia
The playable hero Bastion is an E54 model from the Omnic Crisis.
References