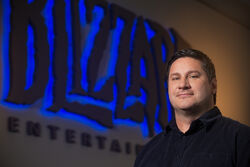 Title - Art Director
As art director at Blizzard Entertainment, Bill Petras is responsible for directing the visual style of the art in Overwatch: a highly stylized team-based multiplayer shooter set on a near-future earth, featuring a diverse cast of extraordinary characters embroiled in an epic, globe-spanning conflict. This includes developing the unique look and feel of Overwatch's distinctive art style, while working closely with the creative development team building the game world.
Petras is a 22-year veteran of the games industry who first joined Blizzard Entertainment in 1997. He joined the company as a senior artist on Warcraft III: Reign of Chaos, moving on to the original StarCraft and then joining the team that launched World of Warcraft.
Billy is a staunch supporter of local art schools. He enjoys going on road trips, hiking, playing games, and reading graphic novels.