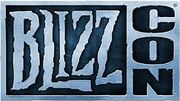 BlizzCon is a convention held by Blizzard Entertainment. The convention often features previews of new content, eSports championships, and panels about the development for Blizzard's games.
BlizzCon is hosted early every November at the Anaheim Convention Center in Anaheim, California. Blizzard also sells Virtual Tickets that grant access to livestreams of the events.
2014
Overwatch was officially announced at BlizzCon 2014. The game was introduced by showing the Cinematic Trailer, followed by the first gameplay trailer. A Tracer Origin Story video was also shown, but never uploaded to YouTube.
These videos established the first twelve heroes (Tracer, Symmetra, Pharah, Hanzo, Reaper, Winston, Torbjörn, Bastion, Mercy, Widowmaker, Zenyatta, and Reinhardt) and the first three maps (Temple of Anubis, Hanamura, and King's Row). Blizzard announced that the beta would begin in 2015.
2015
With the Closed Beta active, Blizzard showed a second gameplay trailer, reviewing the heroes and maps revealed over the past year and introducing three new heroes (D.Va, Mei, and Genji) and a new map (Hollywood). These features were added to the beta a few days later.
This BlizzCon also announced details about Overwatch's release, including the Origins Edition and Collector's Edition, their prices, and that the game would be released in Spring 2016.
The team also showed a preview for upcoming animated shorts.
2016
BlizzCon 2016 was the first BlizzCon to be held after Overwatch was released. The panel opened with the Infiltration animated short, revealing Sombra. Afterwards Blizzard announced plans to release the Arcade and Ecopoint: Antarctica with Sombra and showed a preview of Oasis, to be released at the start of 2017. Sombra and the Arcade were put on the Public Test Region shortly after BlizzCon, and put into the game on November 15, 2016.
The Overwatch World Cup 2016 ended at BlizzCon, with matches between the 16 teams resulting in South Korea winning the tournament. Blizzard also announced plans for the Overwatch League with two videos about it.
The BlizzCon 2016 Bastion skin was given to anyone who attended or purchased a virtual ticket.
2017
Blizzcon 2017 revealed Moira as a new hero and Blizzard World as a new map. Both Moira Origin Story and Honor and Glory were shown.
The BlizzCon 2017 Winston skin was given to anyone who attended or purchased a virtual ticket.
Community content is available under
CC-BY-SA
unless otherwise noted.