Boosters Damaging movement type 10 damage 25

m

range 12.5

m/s

movement speed Lasts 2 seconds or until cancelled 5-second cooldown

D.Va's mech launches into the air, her momentum carrying her forward. She can turn and change directions or barrel through her enemies, knocking them back.

Default Key: (

,

,

)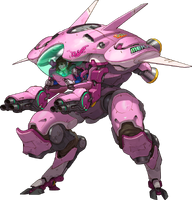 Details
D.Va's mech flies forward in whatever direction she faces, including vertical directions. It can be maneuvered. This lasts 2 seconds, but can be stopped prematurely by pressing the ability button. While flying, D.Va is able to use her abilities like normal.
Any enemy D.Va flies into with this ability takes 10 damage and is knocked back.
In the Game Options, D.Va has an option that affects her Boosters:
Hold to Boost: When enabled, the player will have to hold the appropriate button to keep D.Va in flight; letting go of the button will cancel the ability. Otherwise, pressing the button once and holding the forward button will make D.Va fly until the end of the ability's duration.
Video
Patch changes