"More lost than the moon in winter."
The subject of this article has been removed from Overwatch.

Build Turret
Independent object constructing type
3 seconds deploying
8-second cooldown

Enemy-tracking autocannon turret data
 Attacking turret type
 Enemy-autotargeting

hitscan

and linear

projectile

attack type
 

150

,

300

, or

800

HP


 

14 damage per rounds

,

14 damage per rocket


 

2

,

4

,

5

rounds per second;

4

rockets per second
 40

m

range
 ∞-round clip size
 Lasts until destroyed or replaced
 ✘ Cannot

headshot
Torbjörn constructs an enemy-tracking autocannon. He can use his Forge Hammer to repair or upgrade it, increasing its health and adding a second cannon barrel and a rocket launcher.
Default Key: (

,

,

)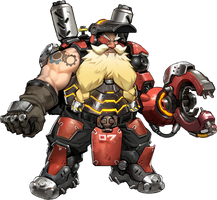 Details
Torbjörn builds a stationary level-1 turret on the ground. The turret must be put at a place which Torbjörn can stand on. The turret will take 3 seconds to be fully deployed; within that 3 seconds, the turret can receive damage and be destroyed. Torbjörn is able to deploy only one turret at any time.
The turret will aim to the nearest enemy and start to project a hitscan fire. The targeted enemy will be marked by a laser trail connecting them and the turret's barrel. The turret will continue to attack its target as long as the target is still in its range, even if there is another closer enemy. It will change its target when the current target is dead, or out of sight.
Torbjörn may hit his turret with the Forge Hammer in order to repair or upgrade it. One swing will heal 50 health. When level-1 turret is at full health, Torbjörn can hit it 5 times to upgrade it to level 2. If Torbjörn activates his ultimate ability, Molten Core, level-2 turret will be automatic upgraded to level 3; during that time, Torbjörn is able to use the hammer to upgrade his level-1 turret to level 3.
| | Number of barrels | Health | Gun barel fire rate | Rocket laucher fire rate |
| --- | --- | --- | --- | --- |
| Level 1 | 1 | 150 | 2 round/sec | N/A |
| Level 2 | 2 | 300 | 4 round/sec | N/A |
| Level 3 | 2 + rocket launchers | 800 | 5 round/sec | 4 rocket/sec |
The turret only deals 12 damage per shot in console versions of the game.
Trivia
Turrets feature an IFF-tracking autocannon that fires upon enemies.[1]
Patch changes
References
Community content is available under
CC-BY-SA
unless otherwise noted.