GTA: The Criminal Enterprises - The Loop
Play Sound
"I hope that people love it; but I almost don't care if it makes me feel alive after twenty years of doing this work. I love this thing, I love that it wears its heart on its sleeve, we wanted to build a world that is bright and fun and heroic and not cynical and just absolutely reaching for everybody's inner six year old; that's what it makes me feel like and I'm so proud of it. That moment crystalized it for me."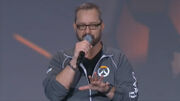 Chris Metzen was the senior vice-president of creative design and story development at Blizzard Entertainment. He worked on creating the Overwatch setting.[1] Metzen had envisioned creating a superhero universe for years prior to working on the game.[2]
Metzen joined Blizzard in 1994, at the age of 19. He had originally envisoned himself bouncing around from positions in the film, comics, and game industries. He describes himself at the time as "a stupid-ass kid with some potential" who "loved drawing and making stuff up."[3]
Metzen worked with Blizzard's cinematic team, and gave feedback on its storyboards.[4] He provided the voice of Bastion.[5] He left Blizzard in late 2016, entering retirement.[6] As a parting gift, he was presented with a statue of himself holding a baby Winston.[7]
Metzen later worked as a creative consultant for Sigma's origin story video.[8]
Trivia
[
]
Soldier: 76 was an original creation of Chris Metzen; art of the original Soldier: 76 was posted to the "Sons of the Storm" blog even before World Of Warcraft was created. The majority of his design was kept for the hero that is in Overwatch today.
External Links
[
]
References
[
]