Defense Matrix Mobile defense type 

8

seconds recharge time 10

m

range 5.5

m/s

movement speed Lasts

2

seconds or until turned off 1.5-second cooldown

D.Va can activate this forward-facing targeting array to shoot incoming projectiles out of the air.

Default Key: (

,

,

)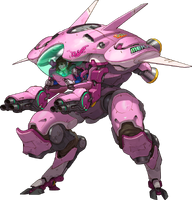 Details
For 2 seconds (when resource meter is at full charge), as long as the button is held, D.Va deletes enemy projectiles within a 10-meter cylindrical range in front of her to protect her allies. She is also able to block an attack that is obstructed by her teammates. D.Va cannot attack while this ability is in use, but she can still move. When the button is let go, it will take D.Va 2 seconds to use the Defense Matrix again. Despite the description, the Defense Matrix is also able to absorb hit-scan attacks.
This ability comes with a meter that depletes as it's used. Once the meter is fully depleted, it takes 8 seconds to recharge the empty meter back to full charge. When not in use, it will start to recharge after 1 second in pause.
In the Game Options, D.Va has an option that affects her Defense Matrix:
Toggle Defense Matrix: When enabled, pressing the appropriate button will toggle the Defense Matrix on and off. Otherwise, the button must be held.
Ability interactions
See below table for abilities marked as both Y and N
Melee weapons including Quick Melee cannot be negated with Defense Matrix.
Video
Patch changes
Community content is available under
CC-BY-SA
unless otherwise noted.