Deploy Turret
Independent object deploying type
3-second deployment
5 or 10-second cooldown

Turret data
 Attacking turret type
 Enemy-autotargeting

hitscan

attack type
 250

HP


 14 damage per hit
 4 hits per second
 40

m

range
 ∞-round clip size
 Lasts until destroyed or replaced
 ✘ Cannot

headshot
Torbjörn deploys a self-building turret which automatically tracks and attacks enemies.
Default Key: (

,

,

)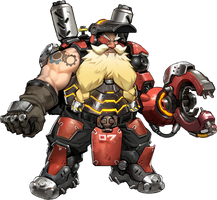 Details
Torbjörn will throw a turret in an arc in front of him. Upon landing, the turret will begin constructing itself and will begin firing after a 3-second deployment period. The turret will attack the first target that enters its line of sight until it is either eliminated/destroyed, or if the Rivet Gun's primary fire hits a target within its line of sight that it is not currently attacking.
The turret has 250 HP. When the turret is tossed, the ability will go on a 5-second cooldown. Torbjörn can destroy the turret by pressing the "Interact" key, and its cooldown will be either 5 or 10 seconds depending on its activity for the past 3 seconds. If it was inactive, meaning it has not been damaged by an enemy and has not fired at any target, then the ability will be placed on a 5-second cooldown upon pressing the "Interact" key; otherwise, it will be placed on a 10-second cooldown. If the turret is destroyed by an enemy or the map environment, the ability will go a 10-second cooldown regardless of circumstances.
Patch changes
Community content is available under
CC-BY-SA
unless otherwise noted.