Fire Emblem Warriors: Three Hopes - The Loop
Play Sound
| | | |
| --- | --- | --- |
| " | Genius. Inventor. Entrepreneur. Social activist. What's not cool about you? | " |
| | ~ Dayo to Efi | |
Efi Oladele (full name: Efi Rotìmí Opèyèmi Oluwadaré Gabrielle Oladele)[1] is an inventor from Numbani with notable achievements in robotics and artificial intelligence, including the creation of Orisa.[2]
Story
[
]
Of Yoruban ethnicity, Efi is very intelligent. She is exceptionally skilled in the field of robotics, but is also skilled in mathematics (including algebra, geometry, and calculus) and science (including physics). She is, or at least was, a skilled gamer, before turning her attention to robot design. However, she has dreadful crafting skills, being much more at home with wire and circuit boards than glue and paper.[1]
She is an admirer of Overwatch, and is a fan of Lúcio's music,[2] with her favorite song of his being We Move Together As One. She was originally a fan of Tonal Abyss, but lost interest in the group. She isn't into Kam Kalu's films.[1]
Efi highly regards Gabrielle Adawe. She can read some Omnicode and is a skilled gamer, but drifted away from the hobby as she focused on robotics instead. In addition to her native language, she can speak some Portugese.[1]
Efi wears her hair naturally, in a ponytail. She originally had bangs, but they were caught up in one of her robots' motors.[1]
Background
[
]
Efi was interested in robotics from a young age. While other kids her age played with building blocks, she was already creating robots. As a toddler, while she'd initially been given gifts such as plushies and talking dolls, she ended up dissecting the toys, turning the electronics into actuators and sensors. Once she understood how they worked, she began creating her own devices. At first, her parents hadn't been happy about it (since the toys hadn't been cheap), but one day, they bought Efi her first plastic robotics kit for her fourth birthday. She used it to make Sparky Bot.[1] Moving on from there, Efi became obsessed with putting together little drones. When she started to get good at it, she tried to build robots to do her chores and help around the house[3] (such as Chore Bot), and also built drones to help her neighbors. Her cousin Bisi gave her carbon-steel tools as a gift further on down the line. She got on well with him and Dayo (Bisi's brother). As a child, her grandfather would tell her tales of how he'd fought during the Omnic Crisis.
Efi attended every Unity Day celebration since she was born.
In her childhood, Efi and her family had to deal with Doomfist's attacks on Numbani. Her parents had a "Super Family Fun Time" game, where they would drop everything and rush into their flat's interior bathroom over the blare of warning sirens. They let Efi indulge in sugary snacks and allow her to watch Overwatch cartoons on her tablet. However, despite her parents' efforts, she never felt at ease during these times.
At school, her closest friends were Naade and Hassana; they became best friends after a science fair incident with a graviton beam. She'd asked them to serve as volunteers. However, she accidentally over-amplified the gravity field, and the result was that they were stuck on the floor of their school library for three hours before they were able to be freed. The incident was the one time that she didn't win the science fair trophy.
When Efi began elementary school, she started taking advanced maths and science classes. Halfway through her first year, she was placed in junior-high classes. At the end of the following year, she'd taught herself algebra and geometry. She ended up taking International Baccalaureate classes after lunch, receiving instruction in calculus and physics. She received twenty consecutive honor rolls, and received the Gallant Minds Award.
She managed to stay close with Naade and Hassana, but this resulted in an emotional as well as intellectual gap, as she was unable to share their experiences. Furthermore, she noted that while Naade and Hassana were her best friends, Naade and Hassana themselves only seemed to tolerate each other's company.[1]
The Hero of Numbani
[
]
The Genius Grant
[
]
By the age of eleven, Efi had put together an impressive resume in robotics and artificial intelligence.[3] Most of her days were spent either in school or in her workshop. At school, she could rely on her cousin, Dayo, for support, but she was distant from the other IB students, as in her experience, teenagers didn't like being shown up by an eleven year-old who was still further along in the curiculum than they were.
While her mother was supportive of her, she wished Efi would spend more time in more traditional recreational activities. For Efi, the creation of robots was recreational in of itself, but for those around her, it appeared as if she was working herself to the bone.
Efi set up her own robotics business (of sorts) as she developed junior assistant (Junie) robots, advertising her services on HollaGram. Naade and Hassana helped her with the robots' construction. However, they had to work out the bugs, and Efi had a long list of customers who'd already put in orders. They managed to create twelve Junies, and Efi gave her friends one each. In part to help boost sales, in part to make it easier to keep up with her friends.
While on the tram, heading home, Efi went on the Free Thinkers website; the place where she obtained most of her source code. There, she stumbled across an advertisment for the Adawe Foundation Fellowship[1] (a.k.a. its "genius grant"),[3] which was a grant for robotics. She noted that the grant was for teachers only, and was disheartened. While she often came across ads for such grants on the site, she found that she never seemed to meet the qualifications for candidacy. However, just before she logged out, her inbox received a message from an anonymous source, telling her that she'd been nominated for the fellowship. She initially suspected that it was malware, but going through it, realized that the email lacked any hallmarkers of spam. It was too personalized for that, and following the link, it took her to the genuine Adawe Foundation website. Whoever "Anonymous088503" was, they were genuine in nominating her. Problem was, however, she only had until midnight to make her submission.
Arriving home, Efi had a quick dinner, told her parents about the grant, and began preparing her pitch. However, writing an essay got her nowhere, as while she was skilled in math and science, she'd only just started learning language arts. Still, the pitch didn't require to be in written form, so she instead made a video pitch, highlighting her past inventions and her current Junie design. She submitted it with minutes to spare.
Over the next five weeks, Efi continued to meet an ever-escalating demand for her Junies. Feeling isolated from her friends, Dayo offered her a place in the drama club he was part of. She offered to take part in making props. During the conversation that followed, Efi claimed that she'd be going to Brazil, to see a concert performed by Lúcio in Rio de Janeiro. A lie, as the case was, as even if she got the grant, her parents had never said anything about taking a trip across the Atlantic. She headed off, claiming that she had a tram to catch.
Dayo followed her, telling her to not worry about; to come back in and just tell the truth. Efi was willing to do so, but it was at this point that she got a notification on her tablet, informing her that she'd won the grant. Experiencing great joy, she figured that she didn't need to correct her story—she was going to Brazil, and her parents couldn't say no.
Efi posted the news on HollaGram, to much rejoicing. However, her parents weren't enthused about the idea of going to Brazil, pointing out that Lagos would be a better option. Efi pressed her case, such as that she'd never been on a plane before, and her parents agreed to think about it. They ended up agreeing. and Efi spent the next few weeks preparing for the trip, both mentally and in terms of her itinerary. Naade and Hassana were also going to come.[1]
The month after she received the "genius grant," Efi was interviewed by Atlas News in their "Spotlight on Numbani" segment. When asked as to what she would do with her grant, she avoided answering the question, but did confirm that her parents would be taking her on a trip to celebrate, in what would be her first time flying.[3]
Doomfist's Attack
[
]
The Oladeles and Efi's friends left their appartment on Unity Day, which meant that their taxi took awhile to get to the airport, due to the streets' congestion. Looking out of the cab, Efi noticed the tension between humans and omnics, however slight, not to mention the security guards. There'd been some rumors that the event would be postponed due to an anonymous threat, but the citizens had promised to show up whether the event was cancelled or not. Eventually, they arrived at Numbani Airport at the Adawe International Terminal. Progress was slow due to the heightened security presence, so to pass the time, she played on one of her laptops. Suddenly, the screen flickered, shifted a few centimeters sideways, then snapped back in place, leaving a magenta ghost image behind. Checking the wireless connections, they blinked out, until only one remained—344X-Azucar. However, she was distracted, and the wireless option disappeared before she could select it.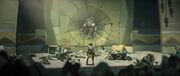 Looking around, she saw Doomfist's gauntlet being escorted on its way to the Numbani Heritage Museum. Suddenly, an explosion tore through the terminal, followed by another. Efi was dazed, but not injured. OR15s were deployed, ordering the assailant to stand down. In the chaos, Efi saw a teenager pinned down by a hunk of fallen concrete, and said that they had to help him. Her mother held her back, telling her to let the OR15s handle it. As they hunkered down, Efi used her Junie to explore the chaos, and through its feed, saw Doomfist, easily destroying the OR15s sent against him. She sent the Junie closer, hoping to distract Doomfist with it. She used it to display a hologram of Akinjide Adeyemi (Doomfist's long deceased mentor), and for a moment, he was caught offguard. However, he quickly realized it was a hologram, and destroyed the Junie, the rest of the OR15s, and escaped with his gauntlet.[1] Efi took a photograph of the damage, which was later circulated by Atlas News.[4]
Building Orisa
[
]
After the attack, Efi and her parents were interviewed by the Numbani Civic Defense Department, where she gave them the footage she had taken of the attack. She also told them about the wireless option that had briefly appeared on her laptop. The officer called her a hero, but there was the question of what was next. Keeping in mind that she'd received the full quarterly installment of the genius grant, Efi said that she wanted to buy one of the destroyed OR15s. The officers refused, pointing out Efi's age, that the OR15s were dangerous, and that they were expensive. However, one of them slipped Efi an address—4/27 Alatise Parkway. Looking it up, she realized that it was an auction house.[1] Having built robots all her life, Efi felt the need to build something greater than her original bots—a "true guardian of Numbani."[5]
Sometime later, Efi posted an image on her holovid channel, captioned "Time to get to work!", that showed a list of items she was gathering for an unknown purpose.[6] She later went to the auction house with her father, where the government was planning to offload the wrecked OR15s while they made preparations to obtain a more advanced line of security robots. Even then, the bidding ran in the millions—way more than she could afford. The bidding ended, and the auctioneer approached Efi, telling her that there were a few OR15s that were too battered to be deemed sellable. She chose one of them, and the auctioneer sold her the individual unit.
The unit was taken to Efi's workshop, where Efi went over the remaining parts she needed—a Tobelstein reactor to drive graviton fields, another functioning Brandord arm, and a fusion driver. It was decided to give the OR15 a makeover; a way to make it stand out, akin to how the members of Overwatch each had their own signature looks. While Efi worked on the parts, she gave Hassana the task of giving Orisa a paint-job, while Naade worked with an Axiom vocal processor to give Orisa a voice. Naade turned out to be more valuable than just voicework however, as working with Isaac, he was able to contact a dealer who could sell her a fusion driver.
The dealer stared at Efi in disbelief, and initially refused to sell military equipment to a 12 year old, but adding to the payment, Efi was able to convince him to take her currency. He took it... and then promptly drove off in his van, yelling that he didn't sell to kids. As she and her friends left the area, they noticed some malfunctioning omnics. Taking out her tablet, she was able to identify that the omnics had fallen prey to some kind of rogue coding. She wrote a program of her own and used it to take out the malware. As she did so, she caught sight of the signal—344X-Azucar. The same signal she'd seen at the airport.
Having burnt through the Genius Grant, and after selling everything she could, Efi received enough donations to purchase a Brandford arm, two weeks after she'd begun working on her project. Being eighteen, Dayo signed off on the purchase, though she remained mute on what the purpose of the arm was for. By this point, their project had the beginnings of a paint job, and a voice imprint had been chosen—a mixture of Efi's mother, grandmother, Ms. Okorie, and Gabrielle Adawe. After hearing of a case of omnics and humans fighting in Numbani, Efi wondered if it was Doomfist's doing, using hacking to disrupt omnics, and fostering distrust in Numbani.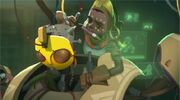 Over the next two weeks, Efi, Naade, and Hassana continued to work on the project, while reports of omnics breaking down continued to file in. After seeing a video of Doomfist destroying Adawe's Peace Park statue, Efi declared that they had to finish the robot tonight. Efi pushed her friends to breaking point, causing Hassana to break down, storm out, and take Naade with her. Efi regretted her words, and after wondering where the venom had come from, realized that it was from her fear, and her inability to admit to it. Nevertheless, she continued to work on the robot, bitterly posting on HollaGram that it seemed no-one else cared about the safety of Numbani. Perhaps not coincidentally, no-one commented on the post. Not even her closest friends.[1]
Activating Orisa
[
]
"
New personality module installed. System rebooting. OR15 oline.
But that name. No, that's no good. Every great hero needs a real name. What about...Orisa?
"
~ Orisa and Efi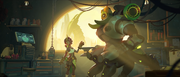 Efi spent a month of coding and debugging, in addition to actually building the robot. The code came from open source artificial intelligence algorithms, "borrowed" military subroutines, and a few of her own modifications. She activated the personality core, but it would take a long time to upload, and her mother asked her to get some pears. Arriving home, she found the core's upload had reached 98%. It activated moments later, and Efi named it Orisa, naming it after the Orisha of Yoruba religion. She began guiding Orisa through a series of logic exercises, but while she did well at first, Orisa failed the fourth, dropping a glass on the floor, which shattered. Picking them up, Efi cut herself, which led Orisa to activate her wound cauterization sequence, despite Efi's protests that all she needed was a bandage. Efi shut Orisa down using a special voice command, giving her time to treat her wound.
Deciding not to get too angry at a creation that was only two hours old, Efi declared that tomorrow, they would test her weapon systems. She showed Orisa a cardboard image of Doomfist, showing the robot her target.[1]
Training Orisa
[
]
As it turned out, Efi waited two days to test Orisa's weapons, and only after reducing her weapon's output. They intended to take a tram to the outskirts of Numbani, though Orisa had trouble fitting in, and the attendant wasn't helping. They ended up walking, leaving Efi to reflect on how Numbani's people were changing, and not for the better. As they did so, they encountered a man trying to get into a car. Efi suspected that he was trying to break into it, which led to Orisa intervening. As it turned out, Efi's hunch had been correct, and the man fled. Efi, despite knowing that she should call the authorities, ordered Orisa to pursue the man, knowing that it would be a chance to see Orisa in action. Orisa succeeded, but only after destroying a statue in the process.
Civics Lessons
[
]
| | | |
| --- | --- | --- |
| " | Yikes! Who knew the laws of Numbani were so complicated? Right-of-ways, zoning regulations, noise ordinances. I'm in a hurry, so can't say much now, only that there are a few more dented cars driving around Numbani. But, Orisa is learning from her mistakes, and since she's making a whole lot of them, I expect she's going to be a genius soon! | " |
| | ~ Efi in a HollaGram post | |
After a lengthy discussion with the civic defense department, Efi agreed to use the next quarterly installment of her grant money to make a sizable donation to the Numbani Arts Commission to pay for a new statue. With weapons testing over, Efi decided it was time to move onto the community relations portion of Orisa's training. Unfortunately, word of Orisa's blunder had got out, and it was only after pleading with Mr. Bankolé that he agreed to let Orisa stack cans in his grocery store. She succeeded, but her social interaction still needed work, as her lack of social skills drove out all the grocery's customers. Efi tried to cheer her up, but failed.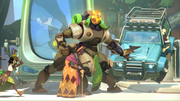 Back at her workshop, Efi pondered as to how she was going to be able to afford a Tobelstein reactor. The damage Orisa had caused had set her finances back six months. To make matters worse, Hassana and Naade still refused to talk to her, and she didn't want to do another fundraiser on HollaGram. To raise the money, she leant her computers' processing power to Valor Matrix, which started earning her naira, however slowly. To pass the time, she decided to run practice with Orisa on Numbanian law, but seeing that Orisa regretted the chaos she'd caused, she took her out instead. They ended up washing cars to raise funds until evening. However, the string of fortunate events came to a "crashing" halt as Orisa escorted a lady across the street, albeit without waiting for the light to turn. Orisa and the lady were unharmed, but not so much for the wrecked vehicle she'd stopped. Despondent, Efi transferred all the funds they'd raised to help the driver pay for repairs.
Returning home, Efi found her family waiting for her. Her mother, concerned with Orisa, asked how long it would be until someone was truly hurt by "the robot." Her aunt was even more agrieved, and while Dayo came to Efi's defense, her father informed her that their insurance company had called, stating that they were threatening to cancel their policy if there was another incident.
Efi returned to her workshop, pondering the problem. She decided that the issue was that Orisa simply cared too much, that her compassion was causing her to make bad decisions. Removing Orisa's capacity for empathy might improve her decision making, but doing so didn't sit right with Efi. Crying, she deleted Orisa's compassion module. As much as it pained her to do so, the risk otherwise was to lose Orisa permanantly. She posted a holovid of the times they'd had together on HollaGram, earning sympathy from her followers, including Naade, despite them not talking anymore. Either way, Efi went to sleep, still crying.[1]
Day at the Museum
[
]
"
You're ruining everything. Someone's got to stand up to you. I'm not afraid. I won't let you destroy my city!
Destroy Numbani? Why would I do such a thing like that? Listen, child. I'm no monster. Numbani leads the world in education and commerce. In biometrics. In nanotechnology. This city is primed for greatness. All it needs is a little chaos to bring out its best.
"
~ Efi confronts Doomfist
The following morning, Efi returned to her workshop, finding that Orisa had gone. She confronted her parents, but they said they had nothing to do with it, nor Aunt Yewande. Returning to her workshop, she saw a feed off FacePunch which depicted Doomfist atop the roof of the Numbani Heritage Museum. To make matters worse, trafcking Orisa, Efi realized that she was en route to the museum. She contacted the robot, trying to make her come back, but Orisa refused, and Efi's attempts at pleading didn't work since her empathy module had been shut down. The connection cut out, and the location beacon faded away.
Efi caught a ride to the museum via a delivery drone. Inside, she found Doomfist and Talon troopers. She recognised one of them as Bisi. What she also recognized was Orisa, who had arrived, and who engaged the Talon agents in a firefight. Orisa held her own at first, but Doomfist incapacitated her. Before he could deliver the finishing blow, Efi ran forward, putting herself between Orisa and Doomfist. He imparted his philosophy to her, and revealed that he knew that she was Orisa's creator. Furthermore, he offered her a place in Talon. Aghast, Efi looked at Bisi, but his expression was distant and cold. Efi refused, and Doomfist jumped up to deliver the killing blow, but Orisa came back online, activating her shield and using a graviton pulse to incapacitate Doomfist's lieutenants. Behind the barrier, Efi worked her code to remove the programming that Doomfist had used to ground Numbani's vehicles, allowing Civil Protection access to the museum. Doomfist and his forces made a retreat.
Orisa revealed that she'd procured a graviton reactor, hence explaining her graviton pulse ability—salvaged Junker tech procured through funds through Efi's app, that Orisa had optimized. Efi was torn between joy and frustration, but she called her parents, and within minutes, the museum was crawling with civil protectors. Her parents arrived, and Efi was interviewed by Bethany Steele of Atlas News. In her statement, she said that Unity Day would go ahead, despite its earlier cancellation. She got support on her HollaGram page, including a post from Lúcio himself.[1]
Shutdown
[
]
"
I am not ready to be deactivated. I have made a mistake, but I am fully capable of learning from my mistakes.
I love you, Orisa. And I'm sorry.
I'm still learning! I'm still—
"
~ Efi and Orisa just before the latter's shutdown
What followed was an emotional mix of highs and lows. Highs, from Lúcio's post (which she had printed out and framed). Lows, because after seeing Bisi, she realized how much she missed Naade and Hassana. At school, she found herself a minor celebrity, but she instead talked to her friends, apologizing for her earlier behaviour. Naade accepted, but Hassana was still miffed, stating that if Efi was their friend, she'd have mentioned them in one of the many interviews she'd taken part in. To make ammends, Efi announced to the cafeteria that the pair had helped build Orisa. She kept singing their praises until she was given detention. Her mother was aghast, and that was on top of her anxiety as to how her daughter had come face to face with a terrorist. Regardless, she invited her friends over to keep working on Orisa.[1]
With Unity Day going ahead, Efi and her schoolmates began working on props for the Unity Day play. Orisa was there, but seeing a student dressed up as Doomfist, attacked him. Efi realized that things had truly gotten out of hand, and that all she could do was make sure that Orisa never hurt anyone again. Taking Orisa back to her workshop, she sorrowfully shut Orisa down, despite her creation's pleas that she was still learning.[1]
Reactivation
[
]
"
I tried so hard to make the perfect protector for Numbani, but all she did was destroy stuff and hurt people.
That's not all she did. She taught you about responsibility. And friendship. She got you out and even more invested in our community. Maybe Orisa doesn't have to be perfect. Maybe she doesn't have to keep Numbani perfectly safe. Maybe if you and Orisa can make the world a little better, that will be enough.
"
~ Efi and her mother
While at the movies with Naade and Hassana, Efi was called by Lúcio. At first, she thought it was a prank, but then realized it was real, and began screaming...so loud, in fact, that the ushers had to escort her out of the cinema. Outside, Lúcio told her that he'd heard her Unity Day fundraiser, and informed her that he was coming to Numbani to support it. Not to buy a ticket, but to do a performance at Unity Plaza. They agreed, and Lúcio asked her to bring Orisa to the concert. Unable to bring herself to admit that she'd shut Orisa down, Efi murmured that she'd bring her robot along. The call was ended, and despite Naade and Hassana's urging, Efi refused to reactivate Orisa, wary of the damage she could cause.
Unable to concentrate, Efi met with Dayo at Kofi Aromo. Dayo headed for the restroom, and in his place sat down Bisi. He claimed that he'd been rooting for her at the museum standoff, a claim that Efi didn't believe. He stated that Dayo had been tied up, and Efi realized that the barista was one of the same Talon agents she'd seen in the museum—they'd poisoned Dayo's cup, hence the restroom visit. Dayo offered Efi a position in Talon, which she refused. In the ensuing conversation Dayo hinted that it was Doomfist who'd nominated her for the Adawe grant. Recalling their encounter at the museum, Efi realized that she couldn't rule the possibility out. Bisi left after leaving behind a laptop.
Arriving home, Efi found a parcel from Lúcio with a Tobelstein reactor; a gift to help get Orisa show-ready. With encouragement from her mother, Efi installed the reactor and reactivated Orisa. She bore no ill-will towards Efi, and the two made up.[1]
Unity Day
[
]
| | | |
| --- | --- | --- |
| " | He got away, but we didn't fail. The way you worked back there, that was amazing. Your quick thinking saved my life, and the lives of thousands of people. But we'll find Doomfist. And we'll pay. | " |
| | ~ Lúcio to Efi | |
Efi and Orisa went to the Unity Day event, where they met with Lúcio. The two made smalltalk, before the conversation led into Lúcio's experiences in Rio. Moving to the present, he stated that the tickets had raised hundreds of thousands of naira for the victims of Doomfist's attacks. She left Lúcio to prepare for the concert, while she and Orisa were on usher duty. Efi noted that this time, the people were glad to see Orisa, and furthermore, that Orisa was now well-adapted to dealing with so many people. They eventually took their own seats.
The event went without a hitch until Lúcio came onstage, at which point Doomfist and Talon attacked. Orisa and Lúcio worked together to handle the attackers, while Efi helped evacuate the attendees, at least at first. However, in the battle, she provided Orisa with instruction, before she saw Bisi. She called out to him, but couldn't sway his mind, or his aim, as he destroyed Orisa's supercharger.
Efi worked with her fellow students to rig Lúcio's sonic amplifier into a more gigantic version. It let out a sonic blast so loud that it toppled many of the Talon agents, forcing them to retreat. Doomfist took Bisi hostage as Lúcio and Orisa closed in on him, using him as a human shield. Orisa asked if she should open fire, which caused Efi to weigh her options. Fire, and Doomfist would drop Bisi over the ledge. Don't fire, and Doomfist would drop him anyway. The second option occurred, and at Efi's urging, Orisa used her graviton pulse to pull Bisi up. However, the distraction was enough to allow Doomfist to escape.
Efi lamented that they'd failed, but Lúcio told her that the opposite was true. She'd saved the lives of thousands. Doomfist would be found, and he'd pay for everything he'd done. Efi was chuffed, but watched in sadness as she saw Dayo turn in Bisi to the civil protectors. Nevertheless, she told Lúcio that in a world that needed heroes, she'd do whatever she could.[1]
A New Adventure
[
]
| | | |
| --- | --- | --- |
| " | I'm just a normal kid. A normal kid genius with a flourishing robotics workshop, a refurbished OR15 for a best friend, and superstar Lúcio Correia dos Santos on her speed dial. You don't have to stare so hard. Or clap whenever I walk into the room. Please? | " |
| | ~ Efi to her fellow students | |
Efi returned to school, while at her workshop, she continued to field Junie orders. However, her actions had changed the dynamic between her and her fellow students. Before things could get more awkward, Orisa arrived with a crash (literally), telling Efi that people were in trouble, and that they needed to help. Efi noticed that Orisa's hard-light caster had been replaced with a fusion driver. Orisa stated that "she" was awaiting their arrival. She couldn't say anything in front of the students, but that she'd explain things to Efi when they were airborne. A quick sojourn abroad so that Efi's studies wouldn't be interrupted too much.
With a smile, Efi headed off with her creation.[1]
Trivia
[
]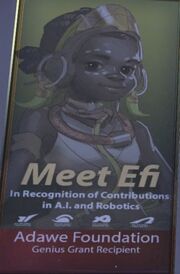 Efi's surname, "Oladele", is Yoruba for "wealth has come home".
"Efi" can be a short form of the Classical Greek name "Efthemia".
At some point after Doomfist's escape, Efi was scheduled to appear at the Numbani Heritage Museum.[7]
References
[
]