Flashbang Stunning arcing splash projectile type 25 damage  2

m

splash radius 5

m

range 0.35 seconds buffer Lasts 0.7 seconds 10-second cooldown ✘ Cannot headshot 

✘ Cannot inflict self damage

McCree heaves a blinding grenade that explodes shortly after it leaves his hand. The blast staggers enemies in a small radius.

Default Key: (

,

,

)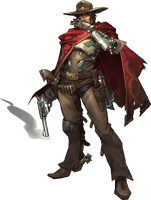 Details
McCree throws a grenade that does a flat amount of 25 damage and stuns enemies for 0.7 seconds, interrupting whatever ability they were using. The grenade explodes regardless of whether or not it made contact with anything. After throwing the grenade, McCree has a 0.35 second delay before he can use alternate fire again.
Trivia
The flashbang can stun Torbjorn turrets and oddly enough Junkrat´s steel traps.
Patch changes
References
Community content is available under
CC-BY-SA
unless otherwise noted.