Gwishin (귀신) are Omnics produced by the omnic factory located underwater near Busan[1]. They are known to frequently attack the city.
Types
Colossal omnic
The Colossal omnic was the first Gwishin, a massive mech capable of re-configuring itself.
Airborne omnic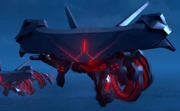 The Airborne omnics are the primary soldiers of the Gwishin, they are around the size of a MEKA and are squid-like in appearance

Gwishin Siege Automaton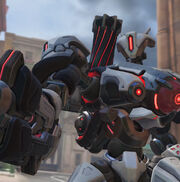 The Gwishin have their own variant of the SST Laboratories Siege Automaton Bastion units.

References
Community content is available under
CC-BY-SA
unless otherwise noted.