Halt! Linear displacement projectile type 25

m/s

projectile speed 5

m

radius 

0.1

,

0.45

seconds cast time Lasts

0.65 seconds

 8-second cooldownOrisa launches a graviton charge which she can detonate, slowing nearby enemies and pulling them towards the explosion.Default Key: (

,

,

)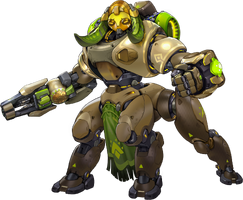 Details
Orisa fires a projectile which, after pressing the ability button again, or after hitting a surface, will pull all nearby enemies towards it over a period of 0.45 seconds and slow them down for 0.65 seconds. Enemies which are in Halt!'s radius will have a green line connecting to them from the projectile.
Community content is available under
CC-BY-SA
unless otherwise noted.