Hellfire Shotguns Shotgun hitscan type 8 rounds per clip 1.5-second reload 

2

-

7

damage per pellet  20 pellets per shot  Max 140 bodyshot damage 

11

-

20

m

falloff range 

2 shots per second

 ✔ Subject to falloff damage ✔ Can headshot

Reaper tears enemies apart with twin shotguns.

Default Key: (

,

,

)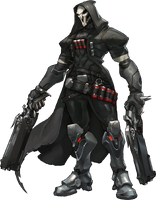 Details
Reaper will alternate between his two shotguns. Each of these guns fires 20 pellets (which deal maximum 7 damage per one pellet) per round, and they have a wide spread with a close distance falloff range, making the shot ineffective from a moderately far distance. Each pellet can also land headshots, inflicting heavy amount of damage in close range.
Video
Trivia
While the Hellfire Shotguns are deadly in close-quarter combat, they are cumbersome to reload.[1]
Patch changes
 November 13, 2018 Patch: Spread randomization reduced by 50%; Spread pattern adjusted
 September 11, 2018 Patch: Fixed a bug that would cause some weapons that fired multiple shots at once to inconsistently deal critical damage.
References
Community content is available under
CC-BY-SA
unless otherwise noted.