Inspire Area of effect healing type 21.67 healing per second 10.83 healing per second on self  Max 130 healing per activation 20

m

radius 1 second buffer Lasts 6 seconds

When Brigitte strikes an enemy with her flail, all allies within range are healed over time.

Default Key: (Passive)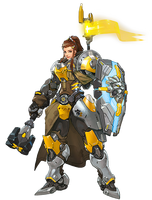 Details
Brigitte inspires her nearby allies, healing all allies 21.67 health per second while heling herself at 10.83 healing per second for 6 seconds total. Inspire is activated when her flail makes contact with an enemy, and is not activated when Brigitte hits a barrier or any built object. Inspire is only applied to allies who are within 20 meters of Brigitte when it is activated, and not allies who enter the radius after its activation. Inspire will be reapplied for any enemy that dies due to an environmental kill due to Whip Shot.
Inspire is still available when Brigitte is hacked or EMP'd, including any applications of Inspire on allies prior to Brigitte being hacked or EMP'd.
Inspire is activated through the use of her flail and there are 2 ways to activate Inspire.
Patch changes
 July 18, 2019 Patch: Healing amount increased from 100 to 130; Self-healing from Inspire is now halved
 December 11, 2018 Patch: Cooldown reduced from 1.5 seconds to 1 second; Duration increased from 5 seconds to 6 seconds; Total healing increased from 80 to 100.
Community content is available under
CC-BY-SA
unless otherwise noted.