Fire Emblem Warriors: Three Hopes - The Loop
Play Sound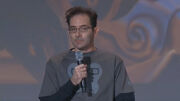 Jeff Kaplan was the game director of Overwatch[1] and Overwatch 2 until April 2021.[2]
Story
[
]
Prior to joining Blizzard Entertainment, Kaplan played and modded a number of FPS games, including Quake, Doom, Half-Life, and Duke Nukem 3D. He also got into EverQuest during this time period. He did not play Blizzard games during this period, as the company was more focused on RTS games during this time.
Kaplan joined Blizzard Entertainment in May, 2002. He worked as a tester for Warcraft III as the game neared release. After the game released, he was transferred to work on World of Warcraft. Kaplan has commented that the shift from RTS to MMO was a "natural fit" for his gaming preferences. He worked on quests for the game,[3] and later served as the game director.[4]
Kaplan worked for five years on Titan[5] before the game's cancellation. In the aftermath, he did work on Crossroads, pitching the 50 classes idea. On the side, he did a "heroes rather than classes" pitch, which became the basis of Overwatch.[6]
He was a "stakeholder" in the game's animated shorts, and gives feedback on their production.[7]
Kaplan's departure from Blizzard was announced in April, 2021. Aaron Keller took his position of game director.[2]
Trivia
[
]
As a player, his favorite game genres are FPS and MMO.[9]
References
[
]