GTA: The Criminal Enterprises - The Loop
Play Sound
Junker Queen




Real Name

Odessa "Dez" Stone[1]

Status

Active

Nationality

Australian

Occupation

Gladiator champion (formerly)
Ruler of Junkertown
Junkertown, Australia

Affiliation

Wastelanders

(temporarily)
Junkers

Relations

Stone

(father), unnamed mother
Unnamed siblings[1]

Leah De Niese


Siho Ellsmore (Junkertown announcer)
Davida McKenzie (trailer)

Quotes

Quotation page

Role

Tank

Health

425

Character Video
The Junker Queen is an upcoming Tank hero in Overwatch 2.
Overview
[
]
The Junker Queen is designed to take part in close combat with enemy heroes. Many of her abilities apply wounds that cause enemies to slowly drain health. This life-steal passive adds to her survivability and aggression. Pushing the boundaries of brawling, Junker Queen can be considered a "berserker tank," whose survivability is directly connected to how many enemies she's wounding.[2]
Abilities
[
]
Strategy
[
]
While Junker Queens passive "Adrenaline Rush" does give her self healing capability, it cannot be expected to be as reliable as channeled abilities such as "Take a Breather", "Self Repair", or "Recall" for recovering lost health. It mainly functions to make Junker Queen last longer on the battlefield.
Commanding shout is similar to Lucios Sound Barrier. While it can be used to save yourself, its best used as a way to save teammates from life threatening ultimates or used during a skirmish to increase chances of victory.
Carnage has a relatively short range, it is best used against up close enemies such as Reindhardt or Doomfist, or it can be used to hit multiple grouped enemies at once, not only dealing wound damage, but healing Junker Queen for a significant amount.
Story
[
]
The Junker Queen (also known as "the Queen of Junkertown" or simply "the Queen")[3] is the cutthroat leader of the Junkers.[4] The Queen is fierce, resourceful, and no stranger to survival,[2] happy to run headfirst into battle. Possessing a magnetic gauntlet, the Queen often wields an axe and blade in conjunction, able to call them back using said gauntlet, in order to achieve her brutal ends.[2] She is also proficient in the electric guitar.[1]
The Queen is based in Junkertown,[4] and has ruled over her subjects for the last decade. For the Queen, every city is her battlefield, every seat is her throne, and everyone on the planet is her subject—whether they know it or not[5]
All the Junkers have to be careful from getting on her bad side.[3] She has a group of enforcers that she sends round to the people of Junkertown when they don't pay their taxes, among other tasks.[6] She is prejudiced against omnics, and has banned them from entering Junkertown.[1]
Banishment
[
]
| | | |
| --- | --- | --- |
| " | Please! Don't leave us out here alone! | " |
| | ~ Odessa's plea | |
Odessa Stone and her family were banished by Mason Howl, who had just become the "king" of Junkertown. Despite her parents' pleas, Howl closed the door to them. Even 13 years later, the day gave Odessa nightmares.[1]
Odessa and her family became part of the Wastelanders, and fought to survive over the next thirteen years. At some point, her father, and possibly some of her siblings passed away.[1]
As recounted in The Legend of the Junker Queen, Odessa made a name for herself in the Wasteland. She slew various feral omnics, mutants, and raiders, and embarked on a journey to the Burning Lands, destroying the Five Metal Demons. Eventually, she made her way back to Junkertown, declaring her intent to take part in the Reckoning.[7]
The Wastelander
[
]
| | | |
| --- | --- | --- |
| " | No Wastelander has ever made it to the Reckoning before. But here I am. A free-for-all with zero rules. And the survivor...gets the throne. King Howl has never lost. Not in thirteen years of rule. Not until today. | " |
| | ~ Odessa Stone | |
Odessa became a gladitorial mech champion[8] in the Scrapyard A charismatic and skilled fighter,[9] she made it to the Reckoning 13 years after her banishment—the first Wastelander to do so. In the ensuing free-for-all, she faced against Mason Howl, Geiger, and Meri.
Apparently acting under Howl's orders, Geiger and Meri both focused on Odessa, while Howl sat back, enjoying the show. Wanting the pair of them on her side when she took the crown, she incapacitated Geiger, and when pinned by Meri, asked why he was working for Howl. Howl, jumping the gun (literally), tried to shoot Odessa, but instead ended up hitting Meri's mech. However, like Geiger, Odessa refused to take her opponent's life, and took on Howl directly.
While able to damage Howl's mech, the king activated the Scrapyard's magnet, the device bringing Geiger against it (due to his cybernetics), Odessa against it (due to her magnetic gauntlet), and Meri, who kept in place due to his mech's grapple. Odessa saved Geiger from being hit by a piece of debris, taking the blow herself, but leaving her at the mercy of Howl's mech. Impressed by Odessa's actions, Meri used his mech to hit Howl's (due to the magnet), causing his shot to miss, destroying the magnet, and freeing Odessa. As her gauntlet and Howl's channeled their power, hers proved the stronger device, and his mech was immobilized.
Howl begged for mercy, and Odessa acquiesed, giving him the same "mercy" he'd shown her family 13 years prior by ordering his banishment. Howl realized who she was, and moments later, the crowd erupted in cheers, one of them yelling out the name "Junker Queen." The name stuck, as Odessa became the new ruler of Junkertown.[1]
The Queen's Rule
[
]
| | | |
| --- | --- | --- |
| " | Listen up you wretched scum. I see your struggles. Trying to survive in the wasteland. It's time to face the facts. The end of the world's come and gone. Your past lives are a dream. It's time you woke up. They thought they could take our land and give it to the machines? They were wrong. We won the war. And now we reap the spoils. We built a new world from the ashes. So step into the Scrapyard. No rules. No mercy. Only the strong survive. This is your queen. Welcome to the apocalypse. Welcome to Junkertown. | " |
| | ~ The Queen | |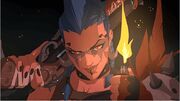 Odessa, now the Junker Queen, established her reign, and her creed, including barring Junkertown to omnics, and establishing a system of law (such as it was) for the town.[1]
In the decade that followed her battle against Mason Howl, few dared to challenge the Junker Queen, and none succeeded.[10] She still found time to take part in brawls, play the electric guitar, and teach the children how to use throwing knives (made of wood).[1]
One of the town's Junkers named Junkrat blabbed on and on about a 'treasure' he had found in the ruins of the Australian omnium. She came to suspect that his claims might have some truth in them, and she sent some of her enforcers to wring the truth out of him. Unfortunately, the enforcers were incapacitated by another Junker named Roadhog, who became Junkrat's partner in crime.[6] The two went on to cause the Queen a string of problems, including stealing her gold and blowing up her summer shack. The pair were exiled as a result[11] and she gave orders for them to not be re-admitted to Junkertown, and if they were seen again, to shoot them on sight.[12] After a worldwide heist spree, they returned to Junkertown to assassinate her but were stopped at the town gates.[11]
Trivia
[
]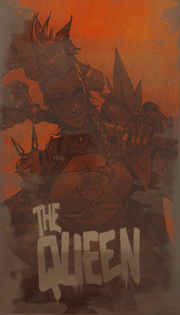 Development
[
]
As of April 2019, Arnold Tsang had produced several pieces of concept art for the Junker Queen, and according to Jeff Kaplan, the team had "big plans" for her, though the plans were on more of a long-term timeframe.[14] The Junkertown map showcased her tough, almost brutal, personality, and the developers wanted her abilities and playstyle to match that energy. When designing the Queen, her playstyle and kit were derived from her pre-existing lore. She was designed specifically for Overwatch 2's 5v5 nature.[2]
The Carnage ability was the starting point of the Queen's design, as she had always been depicted with an axe prior. Remembering the issues they'd had with Genji, the axe was made an ability rather than her primary attack. The original iteration of Carnage let her throw her axe following the initial swing before recalling it back to herself with her magnetic gauntlet; however, when implemented, the practice of throwing her axe felt wrong. It led to a rigid playstyle that didn't allow for the use of other axe-based abilities while her weapon was out-of-hand, so the throw was swapped to a slash with a wound effect. The concept of throwing and recalling her weapon eventually led to her next ability: Jagged Blade.[2]
Jagged Blade was inspired by one of Reinhardt's old abilities, where he could throw his hammer at the enemy. Despite not making it into Reinhardt's final kit, this prototype ability heavily inspired Jagged Blade. Whereas Reinhardt had to go and pick up his hammer, the Queen is able to recall the blade back to her via her magnetic gauntlet. Care was taken to ensure that the gauntlet didn't make the Queen feel too "mage-y" or similar to Sigma, who can levitate people and objects. Instead, the gauntlet was designed in a way that the Queen uses her magnetic powers to control her axe and knife.[2]
The Commanding Shout ability was implemented to enhance the Queen's "tankiness." This was the first team movement speed buff in the game since Lúcio. The ability was intentionally designed as such, rather than something like a dash or teleport, as it helped reinforce her nature as someone who sprints headfirst into battle.[2]
Initially, her Ultimate was a spinning whirlwind-type ability. However, the developers wanted to incorporate her gauntlet into her Ultimate. They didn't want to the Ultimate to feel elegant or magic-influenced, either, because it didn't align well conceptually with character, so they tried to push her magnetic gauntlet to its limits.[2]
On June 12, 2022 it was revealed that she would be a playable hero in Overwatch 2.[15]
References
[
]
Heroes in Overwatch

 


D.Va

Doomfist

Junker Queen

Orisa

Reinhardt

Roadhog

Sigma

Winston

Wrecking Ball

Zarya

Ashe

Bastion

Cassidy

Echo

Genji

Hanzo

Junkrat

Mei

Pharah

Reaper

Soldier: 76

Sojourn


Sombra

Symmetra

Torbjörn

Tracer

Widowmaker

Ana

Baptiste

Brigitte

Lúcio

Mercy

Moira

Zenyatta