Light Gun Linear projectile type 20 rounds per clip 1.5-second reload 14 damage 7 rounds per sec 50

m/s

projectile speed ✔ Can headshot

While outside of her mech, D.Va can continue the fight with a mid-range automatic blaster.

Default Key: (

,

,

)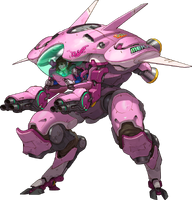 Details
Until she calls a new mech, D.Va engages on foot, using a pistol with a 20-shot magazine (similar to Mercy's Caduceus Blaster) and with no other regular abilities, passive or active.
Images
Video
Trivia
The Light Gun is a weapon of last resort. This small sidearm allows mech pilots to fire energy bursts.[1]
In comparison to Mercy's Caduceus Blaster, it fires at a faster rate but with a marginal damage decrease, ultimately leading to slightly less but still on-par DPS with the Caduceus (98 vs 100 assuming all shots are hit).
Her animated short shows the gun's holster attached to the inside of MEKA.
References