Fire Emblem Warriors: Three Hopes - The Loop
Play Sound
Los Muertos



Headquarters

Mexico

Type

Revolutionaries/Criminal organization

Standing

Active
Los Muertos (lit. "The Dead") is a revolutionary/criminal group that operates in Mexico.
Background
[
]
Little is currently known about the Los Muertos organization. Though most consider it to be a lawless, opportunistic gang, its members style themselves as revolutionaries who represent those left behind by the Mexican government after the widespread devastation of the Omnic Crisis. That mission stands in stark contrast to their methods and the overwhelming evidence of their criminal activities.[1]
They distinguish themselves by painting skulls and bones on their bodies with phosphorescent paint. Some of their members have demonstrated anti-omnic tendencies.[2]
History
[
]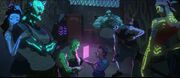 The group was formed within a decade of the end of the Omnic Crisis.[3]
Dethroning the King Viper
[
]
Sombra, a former member of the group, hacked the website of LumériCo, posting claims that its CEO, Guillermo Portero, was plundering the riches of Mexico to fill his own purse, that he had corrupted the government, and wouldn't stop until the entire country was under his control. Los Muertos promised to "dethrone the King Viper."[4] Sombra leaked a number of LumériCo documents and emails to the public. The documents indicated that Portero used the company's funds as his own piggy bank, that he was personally involved in bribing public officials and creating a system of kickbacks and payoffs beneficial to LumériCo, and finally, that he proposed a plan to seize privately held land via government expropriation to expand LumériCo's facilities throughout Mexico. It also established that negotations were being conducted between LumériCo and the Vishkar Corporation. Portero denied the accusations, but Los Muertos came out of what Atlas News dubbed the "Sombra Collective." It called for the immediate resignation and arrest of Portero and his co-conspirators, the deactivation of LumériCo's power plants pending an independent investigation into the company's governance, and reparations to citizens affected by LumériCo's policies. It began organizing a protest to coincide with LumériCo's unveiling of the Dorado nuclear plant.[5] Less than a week later, Portero resigned as CEO, as public opinion turned against his company.[6] The group posted on the company's own website, declaring that Portero would soon be imprisoned like so many other Mexicans he had put there, and that the revolution would continue.[7]
Known Members
[
]
Trivia
[
]
According to Michael Chu, whether Los Muertos should be considered a revolutionary or criminal group is something that's down to personal interpretation.[8]
References
[
]