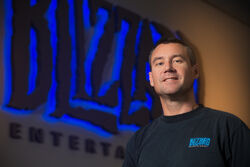 Title - Senior Technical Director
As senior technical director at Blizzard Entertainment, Michael Elliott is the technical lead responsible for all of the engineering on Overwatch: a highly stylized team-based multiplayer shooter set on a near-future earth, featuring a diverse cast of extraordinary characters embroiled in an epic, globe-spanning conflict.
Michael Elliott joined Blizzard in 2005, after previously working for Swingin' Ape Studios, which was acquired by the company in the same year. Before transitioning to his current project, Michael has served as lead gameplay engineer and technical director on World of Warcraft.
In his free time, Michael enjoys playing Blizzard games.