The Ministries are the governing body of Oasis. They are "a collection of brilliant minds who possess many secrets that have attracted the interest of powerful organizations from around the world."[1]
Known Ministries
[
]
Ministry of Biology
The Ministry of Biology is responsible for the creation of the Abu Hassoun Gardens.[2]
Ministry of Geology
The Ministry of Geology is headed by Doctor Anya Al-Shahrani. It is responsible for the many breakthrough technologies that made it possible to build the thriving city in the middle of the Arabian Desert.[2]
Ministry of Tourism
The Ministry of Tourism promotes Oasis to the world.[2]
Ministry of Transport
The Ministry of Transport issued a warning via the Ministry of Tourism, in regards to Oasis's traffic.[2]
Ministry of Genetics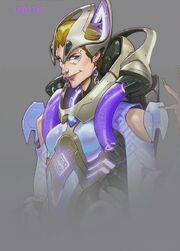 The Ministry of Genetics is headed by Minister of Genetics Moira O'Deorain.[3][4]
Other
References
[
]