Mirembe
Mirembe




Occupation

Overwatch agent

Affiliation

Overwatch (formerly)

Relations

Husband
Mirembe is a former member of Overwatch.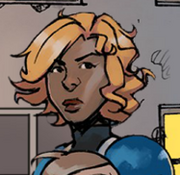 Mirembe took part in an operation to rescue hostages taken by Talon. At the time, her husband was battling cancer. The hostages were successfully retrieved, and Mirembe survived.[1]
Years later, Mirembe's profile was in the Overwatch database when Winston initiated a recall of former Overwatch agents.[2]
Mirembe is a Luganda name meaning "peace."