Fire Emblem Warriors: Three Hopes - The Loop
Play Sound
Orisa

"Your safety is my primary concern."



Status

Active

Age

1 month

Nationality

Numbanian

Occupation

Guardian robot
Numbani

Affiliation

Numbani

Relations

Efi Oladele (creator)
Cherrelle Skeete[1] (English)

Corinne Wellong (French)
Dela Dabulamanzi (German)
Elisabetta Spinelli (Italian)
Atsumi Tanezaki (Japanese)
Kang Shi-hyeon (Korean)
Sonia Bohosiewicz (Polish)
Marisa Leal (Brazilian Portuguese)
Olga Zubkova (Russian)
Han Jiaojiao (Simplified Chinese)
Long Sian-huei (Traditional Chinese)
María Blanco (European Spanish)

Cosmetics

Cosmetic page

Quotes

Quotation page

Role

Tank

Health

200

Armor

250

Character Video
Orisa is a Tank hero in Overwatch.
Overview
In Overwatch, Orisa serves as the central anchor of her team, and defends her teammates from the frontline with a protective barrier. She can attack from long range, fortify her own defenses, launch graviton charges to slow and move enemies, and deploy a Supercharger to boost the damage output of multiple allies at once.[2]
In Overwatch 2, Orisa is an offensive tank.[3]
Abilities
Overwatch
These are Orisa's abilities in Overwatch. After the release of Overwatch 2, these ability set will be replaced.
Fusion Driver

Projectile speed:
120 meters per second
Rate of fire:
12 rounds per second
Automatic projectile weapon. Slows Orisa while firing.
Halt!


Move. speed:
20 meters per second (pull speed)
Projectile speed:
25 meters per second
Area of effect:
5 meter radius
0.1 seconds (launch)
0.45 seconds (activation)
Duration:
0.65 seconds (snare)
Launch a graviton charge with
then detonate it with
. The sphere slows and pulls nearby enemies to it.
Details:
Automatically activates upon touching a surface.
Can be manually activated by pressing key again.
Enemies in range are pulled to the center and are briefly slowed until 0.65 seconds after activation.
The projectile itself goes through barriers, but the pull effect is blocked by them.
Removed in Overwatch 2.

Orisa temporarily reduces damage she takes and cannot be affected by movement-impairing effects.
Reduce damage taken and you cannot be stopped.

Projectile speed:
25 meters per second
Throw a device that creates a barrier.
Details:
Cooldown begins immediately.
The projectile ignores Defense Matrix, Deflect, and Kinetic Grasp.
The barrier is shaped like a football net.
The barrier extends slightly below where it is deployed in the case that it is on a ledge or a payload.
The barrier can be deployed without interrupting Fusion Driver's reload.
Removed in Overwatch 2.


Orisa deploys a device to increase damage inflicted by allies within her line of sight.
Projectile speed:
7 meters per second (horizontal)
Area of effect:
25 meter radius
0.4 seconds (spawning Supercharger projectile)
Ultimate cost:
1680 points
Deploy a device that increases damage inflicted by your allies.
Details:
Orisa passively generates 1% Ult Charge every 3.36 seconds.
Enemy barriers break line of sight.
The effect lingers for 1 second if line of sight is broken or if a player is out of range.
The Supercharger projectile experiences 3x normal gravity (60 meters per second squared)
Removed in Overwatch 2.
Overwatch 2
These are Orisa's abilities in the Overwatch 2 beta. After the game's release, this ability set will become standard.
Augmented Fusion Driver
Starts at 10.5, scales down to 4 over 35 meters
Projectile speed:
120 meters per second
Rate of fire:
10 rounds per second
Automatic heat-based weapon. Deals more damage at closer range.
Details:
Fires rapid projectiles. These shrink in size over distance.
Uses a heat-based mechanic instead of ammo/reload.
Energy Javelin
Launch your javelin at an enemy to stun and knock them back. More effective if the enemy hits a wall.
Details:
Replaces Halt from Overwatch.
Hits the first enemy in its path, delivering a micro-stun. Deals extra damage if pushed into a wall.

Orisa temporarily reduces damage she takes and cannot be affected by movement-impairing effects.
Reduce damage taken and you cannot be stopped.
Details:
This ability is retained in Overwatch 2 with the following differences:

Gains 125 temporary health.
Slowed by 20% when active.
Reduces heat generated from firing by 50% when active.
Move. speed:
Forward movement speed by
60%
while active and by
20%
for 2 seconds after the spinning ends
Spin your javelin to destroy projectiles, push enemies, and increase forward speed.
Details:
Replaces Protective Barrier from Overwatch.


Sweep in enemies and anchor down, gaining the effects of Fortify and charging up a surge of damage. Use Primary Fire to unleash the surge early.
Details:
Replaces Supercharger from Overwatch.
Strategy
Strength
Orisa is an anchor tank, meaning her team will get more benefit when grouping and coordinating around her. Fusion Driver's cannon shell is a projectile; on one hand, it has travel time, but on the other hand, it has no damage falloff. This makes it useful against enemies at long range, provided the player can properly lead the shots if the enemy is moving. Her Protective Barrier is best used on chokepoints and to suppress enemies. Orisa can use Halt! to pull enemies out of position, or coordinate it with allies' abilities to force the enemy into a vulnerable position that leads to their deaths, much like Zarya's ultimate Graviton Surge. Fortify has no downside (apart from being hard-countered by Whole Hog), she can freely use it to increase her tanking power. Her Supercharger increases the damage output of her allies, but the device can be destroyed.
Weakness
While Orisa has strong front-facing defense, she is weak to flankers who can get behind her due to her low mobility. Considering that her barrier is an unmovable object, and that her weapon can't attack multiple foes at close range, she is vulnerable when surrounded or being attacked from other angles. As she is a fairly large target, and her combined health with her barrier is less than Reinhardt's, she is vulnerable to being taken down by a heavy damage dealer, or a sniper who can pick at her from extreme range.
Weapons & Abilities
Fusion Driver: Orisa's primary weapon. It's an automatic weapon that fires projectiles with a high speed. It has a very large magazine, allowing her to spam the enemies' group. It has some slight spread, making it less effective against the target in extreme range. The downside of using this weapon is that it slows her movement speed while firing by about a third (30%).

Since it is a projectile, Fusion Driver's bullets don't suffer from damage falloff, which is useful for attack targets in any range, though you will have to lead the targets to do so.
While it can spam bullets at the target, Orisa is very slow while firing. If she engages a group of enemies, retreating without returning fire should be a better option.
Don't reload too frequently. Reloading Fusion Driver takes around 2.5 seconds, which will leave her vulnerable to enemy fire. Make use of all of her bullets before reloading, or just reload between engagements.
The Fusion Driver can headshot, and since it doesn't suffer damage falloff, try to aim for the heads of your enemies if you can to quickly take them out.
Halt!: Orisa launches a graviton ball that moves in a straight line. The ball will travel slowly for an unlimited distance until it hits a solid surface. She can re-activate the ability by pressing the same button again. After a short delay, it will slow all enemies around the orb and pull them to its centre before it disappears.

Halt! is essentially a pint-sized Graviton Surge. It can pull enemies away from cover or Health Packs, and if fired (and activated) in the right time and place, it can pull enemies to their death; for example, pulling them into Ilios' Well section's big hole.
The projectile flies through an enemy's barrier, but the pulling effect doesn't go through. For example, detonating Halt! in front of a Reinhardt's shield will have no effect, but if you let it pass through his shield and then detonate it, it will pull him, as well as any nearby allies, towards it.
Consider where and when to pull the enemies; Orisa's teammates might be able to combo their abilities for maximum effect.
Fortify: A personal effect ability, Fortify will provide Orisa with a 50% damage reduction over a period of four seconds, and block all hero abilities that would cause movement penalties.

The abilities that can be blocked are listed above in the 'abilities' section.
Fortify does not negate the effects of an enemy Ultimate on allies positioned behind Orisa; an Earthshatter and Graviton Surge, for example, will still affect friendlies.
Fortify is an extremely useful ability, whether used as an escape strategy or tanking mechanism it has many uses depending on the situation.
Fortify generally has no downside, but it can be countered well by Roadhog's Whole Hog. Whole Hog has obscenely high raw damage output, along with very strong knockback, but the knockback will eventually mitigate the damage due to damage falloff. Fortify negates the knockback effect, which will result in Orisa taking massive amounts of damage from Whole Hog (and most likely dying) due to being hit by the entirety of the attack.

While Whole Hog is the most spectacular example, it is not advisable to use Fortify on any strong attack that applies a strong knockback effect, as the knockback will likely prevent more of the damage than Fortify would.

Protective Barrier: Orisa will shoot a slow arcing projectile that turns into a barrier upon hitting a surface. Cooldown starts after throwing the projectile, not after the barrier is depleted.

If her barrier recharges before the cooldown of the previous barrier is over, launching a second barrier will make the first one disappear. Thus, it is not possible to have two barriers at once. It is, however, possible to throw the second barrier at the same spot as the first, effectively "refreshing" the previous barrier with full health and duration.
Don't always feel that you need to deploy a new barrier as soon as your cooldown wears off. However, if your existing barrier is low on health and your enemies aren't currently attacking, it may be wise to "refresh" your barrier so that it's fully healed when your enemies return.
The barrier doesn't disappear after Orisa dies.
Placing a Protective Barrier on a Payload can be quite effective in defending your team as they escort it or defend it from attackers. This synergizes excellently with a Bastion, Torbjörn, or Symmetra turret if your team can adequately protect the flanks.
Protective Barrier can be attached to objects like basketballs.
Supercharger (Ultimate): Orisa's Ultimate ability. She deploys a device, called "The Drum", directly at her feet, which provides provide all allied characters in line of sight with a 50% damage boost, as long as they stay in range of the device and within line of sight. The device will last for a long time until it disappears or is destroyed by the enemies.

Supercharger is not a projectile ultimate, as it does not leave Orisa's hands until placed; as such, it cannot be absorbed by D.Va's Defense Matrix.
The drum is a destructible item; since it only has 200 health and is a stationary device with no firepower of its own, the drum is easily destroyed by focus fire from the enemy.
Try to place the Ultimate behind a corner or hero shield to provide some protection; however it still remains exposed to heroes that can deal long-range damage like Pharah or Widowmaker. It can also succumb to shield piercing attacks like Symmetra's alt fire and Reinhardt's Fire Strike, and is weak to flankers like Tracer or Sombra.
Note that low walls that obscure more than 50% of the drum will block line of sight, even if the top of the Drum is visible.
The Ultimate can be affected by Sombra's EMP and will be inactive during the hack duration; however if the hack ends before Orisa's Ultimate does, the Drum will reinitialize.

Hacking the drum disables it for 10 seconds, and the drum itself has a duration of 15 seconds.

The Ultimate's damage boost will stack with Ana's Nano-Boost and Mercy's Damage Boost, providing a 130% total damage increase to the affected hero.
When activating your Supercharger, always try to deploy your Protective Barrier first. This will help increase the survivabilty of your Supercharger, while simultaneously protecting allies who choose to fight closer to it.
While you normally want to place your Supercharger far enough from the action that it won't be destroyed in the crossfire, you can often utilize the geography of the area to provide smart protection for your Supercharger. Simply place your Supercharger close to a wall (such as the interior of a capture point area) and deploy your Protective Barrier around the front of it so it's protected on all sides. While prolonged enemy fire can eventually destroy the barrier and your Supercharger, if enough teammates are fighting close to you when you deploy, you should have no difficulty wiping out or driving back the enemy team before they can destroy your Supercharger.
General strategies
Orisa excels at creating openings in the enemy defense by using her Halt! ability to pull people out of position, or just pulling someone off of the map to kill them.
Orisa isn't a glass cannon like Bastion under Configuration: Sentry, but she has a much harder time engaging multiple foes, especially when they are close.
Stand in front of your Projected Barrier while Fortify is active to soak up some damage and keep the barrier up as long as possible. Just watch your health.
Protect your Supercharger with a Barrier and by bullet-blocking with Fortify.
Use Fortify and body-block characters like Cassidy while they use their ultimate.
Use your Halt! ability to take enemies off of the high ground.
Pulling an enemy into or out of a choke point will be a useful ability to master when using this hero.
Use Halt! to pull snipers and support out of a defensive position to bring them out in the open and easier to kill
If an ally is preparing to use an Ultimate ability, use Halt! to cluster the enemy team together to make them easier targets.
Upon activating Supercharger, the enemy team may attempt to flee; quickly follow up with Halt! to make sure they endure the full force of your team's attack.
When deploying your Protective Barrier, gradually place them further and further up so your team can gradually gain ground. Always try to fight from behind the barrier if you can; you have strong ranged firepower, and your barrier can compensate for your comparatively low health for a Tank hero.
Try not to activate Fortify while your Protective Barrier is active, as it can be used to absorb the brunt of the enemy's attack. Fortify is a good panic button to use when a Reinhardt is approaching with a charge, or a Roadhog activates his Ultimate (as long as you make sure not to let him get close), and shouldn't be used constantly, but rather saved for emergencies or when your Protective Barrier is destroyed.
Match-Ups and Team Synergy
Tank
| Hero | Match-Up | Team Synergy |
| --- | --- | --- |
| D.Va | D.Va will prove the be a big nuisance to you, she can easily engage and disengage with her boosters, she can deny all your shots and your halt! ability with her Defense Matrix, her damage output is very dangerous at close range, even with fortify active, and her self destruct can cause problems if your barrier has been destroyed recently and it's on cooldown, while there are occasions in which you can win against a D.Va in her mech by yourself, try to get your team to help you with the process before she can disengage, If you manage to get her outside her mech though, she's child play, try to deal with her quick before she can regroup with her team, which shouldn't be too hard considering her low health and lack of mobility. using halt! can usually buy you time to finish her off if she's retreating. | (To be added) |
| Orisa | Since Orisa is an anchor tank, both of you will be playing with your respective team, which will come down to who's team can manage better, if you find an enemy Orisa wondering about without her team for whatever reasons, the fight will usually last long due to your relatively big health and armor, all of Orisa's abilities are more defensive than offensive and there'll be almost no way to gain the upper hand, if both of you stumble to one another you should backpedal to your team while retaliating to the enemy Orisa rather than trying to stand your ground so you don't waste precious time. | (To be added) |
| Reinhardt | As long as you keep away from Reinhardt's melee range, he shouldn't cause much trouble, while you will have trouble destroying his barrier, with team support this shouldn't be much of an issue, his fire strike Isn't much of a threat to your big health pool and your barrier can stop your teammates from being affected by Earthshatter, if he starts charging into you, activate fortify to stop him in his tracks, just be wary, If You find yourself in melee range you'll be in deep trouble without team support, you cannot outrun Reinhardt, and even with fortify, should you come out on top it'll be very simple for any of his teammates to finish you off. | Gathering enemies with Halt! will allow a friendly Reinhardt to land a much more effective Earthshatter. He may be able to stun the entire enemy team! |
| Roadhog | (To be added) | Halt! can make it easier for Roadhog to hook mobile heroes like Tracer and Genji as well as heavily-protected ones like Mercy and Ana. |
| Sigma | (To be added) | (To be added) |
| Wrecking Ball | (To be added) | (To be added) |
| Winston | Winston is not made to confront tanks, and you're no exception, he has no means of attacking you at a distance, and at close range, his low damage output will only tickle you, however you usually won't be able to kill Winston by yourself before he can disengage with his jump pack and you being able to use halt! to stop him (unless you can predict him about to flee, in which case he'll often be in trouble), if he uses his ultimate you can use fortify to negate the knockback of his punches and shoot at his giant hitbox to gain ultimate charge. | (To be added) |
| Zarya | If you get pulled into a Graviton Surge, use Fortify to body block the damage for allies clustered behind you. This is especially important when the enemy team also has a Hanzo, whose Dragonstrike is famously devastating when paired with Graviton Surge. | (To be added) |
Damage
| Hero | Match-Up | Team Synergy |
| --- | --- | --- |
| Ashe | (To be added) | (To be added) |
| Bastion | If bastion is in turret mode he'll make quick work of you and your barriers, even with fortify active this will matter very little in a one on one fight, if he's in recon he can turn to sentry mode and gun you down before you can really do any significant damage, his self healing will also allow him to recover any damage you might've dealt to him, if you see a bastion on sentry mode ask your team to deal with him (preferably everyone as a group) before going out in his sights, | (To be added) |
| Cassidy | (To be added) | (To be added) |
| Doomfist | Fortify can ruin a lot of Doomfist's combo potential, as such if you're aware a Doomfist is wandering nearby, save your fortify for when he comes and activate it as soon as you know he's going to attack you, if he uses all of his abilities he's easy prey to shoot at with his large hitbox. | (To be added) |
| Echo | (To be added) | (To be added) |
| Genji | (To be added) | (To be added) |
| Hanzo | (To be added) | (To be added) |
| Junkrat | Having a big hitbox and lacking mobility, an encounter with an enemy junkrat is very unfortunate, Your barriers won't last long against his grenades, your fortify will do very little difference should the enemy junkrat focus on you, and he can save himself from enviormental hazards with his concussion mines, it's also way easier for him to retreat a fight should it not go well for him, try not to face a junkrat head on and keep a fair distance to make it harder for him to hit you consistently. | You can use Halt! to pull enemies into Junkrat's Concussion Mine. |
| Mei | Your Fortify ability will make you unable to be frozen temporarily, however, when you use fortify you should try to get near teammates that can handle her better rather than keep fighting her yourself, Due to Mei's cryo-freeze ability, she can usually win a one-on-one fight with you, or leave you with small health, and her Ice walls can cut you off should you try to retreat and she can also use them to retreat herself, if she's at low health and has used cryo-freeze recently you can go for the kill. | (To be added) |
| Pharah | There's very little you can do to counter an enemy Pharah, shooting at her from the sky will prove to be a waste or time, and she can easily shoot around your barriers, don't bother trying to take her down and leave her to your teammates instead. | (To be added) |
| Reaper | Reaper is a very dangerous matchup for Orisa, while at a distance he won't be able to do much, at close range he'll absolutely demolish you with his shotguns, even with fortify there's very little chance you'll come out on top if your team isn't there to back you up, should the fight not go his way he can use wraith form to flee, always be aware of your surroundings and shadow step and never let him get the drop on you. | (To be added) |
| Soldier: 76 | (To be added) | (To be added) |
| Sombra | Sombra's hack will remove halt!, fortify and make you unable to deploy a new barrier, however, you can still hold your ground fairly well evenly while hacked, Sombra will also have trouble chipping through your whole health with her primary fire and'll often be forced to disengaging or face death, be very wary of her when you use your ultimate since Sombra can hack the supercharger for a long time, disabling it, which will make your ultimate's value much less that it would've been otherwise. | (To be added) |
| Symmetra | (To be added) | (To be added) |
| Torbjörn | (To be added) | (To be added) |
| Tracer | Tracer is a very bad matchup for Orisa, Tracking Tracer with your primary fire is hard enough but with her abilities she can dodge any damage you might deal to her with ease, if she's low on health recall can keep her alive and keep hindering you, if a Tracer is harrasing you warn your team so that they come aid you and fend her off | If Tracer "sticks" an enemy with her Pulse Bomb, launch Halt! and time the pull so that the "stuck" target gets pulled to their teammates. Tracer will get a multikill, and you will get an assist. |
| Widowmaker | (To be added) | (To be added) |
Support
| Hero | Match-Up | Team Synergy |
| --- | --- | --- |
| Ana | A matchup against an enemy Ana usually involve long range fights with both of you trying to kill each other, however you should try to avoid this situation and focus on her teammates instead, since if you keep trying to attack her, she can just retreat and stay behind cover and use her biotic grenade to heal herself, should you bump into an Ana and are at close range, immediately activity fortify to make you immune to her sleep dart and gun her down before she can regroup with her team, while she can use her biotic grenade to heal herself, most Ana's will back off and regroup with their teams rather than trying to fight | (To be added) |
| Baptiste | (To be added) | (To be added) |
| Brigitte | (To be added) | (To be added) |
| Lúcio | (To be added) | (To be added) |
| Mercy | (To be added) | (To be added) |
| Moira | (To be added) | (To be added) |
| Zenyatta | Zenyatta Is the best tank buster in the support section, and as such you're just another target, both of you lack mobility, are slower than most classes and prefer to stick with your team rather than running to the enemy team, while Zenyatta can keep applying constant pressure to your barriers, if you keep retaliating you'll force him to back up and regenerate his shields, if both of you stumble to one another immediately deploy a barrier close to your feet and start the fight, Zenyatta's orb of discord can give him a potential chance of winning the matchup. | (To be added) |
Story
"My name is Orisa. I will keep you safe. That is my primary function."

Orisa is a newly-created omnic[4] with both a heart and personality. Urged to become a hero by her creator, Efi Oladele, Orisa strives to right wrongs and act as the hero the world needs.[5] While her relative inexperience can make her an occasional liability, Efi's optimism and willingness to make modifications to Orisa's adaptive artificial intelligence have always been able to set things right. While Orisa has much to learn about the world and its functionality, Orisa stands ready to protect both Efi and Numbani with her growing sense of honor and duty.[2]
She is a fan of Lúcio's music,[6] though will shut down if We Move Together As One is played via a shutdown code. She does not dream in the manner that humans do.[6] She is named after the orisha; spirits reflecting one of the manifestations of the Supreme Divinity in Yoruba religion. Her voice is a synthesis of the voices of Efi's grandmother, mother, teacher, and Gabrielle Adawe.
Orisa is equipped with a fusion driver that allows her to fire projectiles, a Tobelstein reactor that can generate graviton fields, a hard-light lasoo, a hard-light caster that can deploy shields and project a laser capable of cauterizing wounds, [7]and can deploy a supercharger.[2] She can also carry out biometric scans, and is equipped with a transponder that Efi can use to track her.[7]
The Hero of Numbani
| | | |
| --- | --- | --- |
| " | I made you to be strong and brave. You still have a lot to learn, and you'll probably mess up sometimes. But I know you'll become the hero we need. | " |
| | ~ Efi Oladele | |
Origins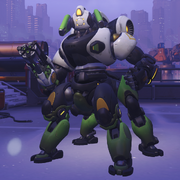 Orisa was originally an OR15; one of many employed in the defense of Numbani. However, the units were destroyed by Doomfist at Numbani's airport. With a concussive blast, the OR15 that would be called Orisa was slammed against the wall so hard that it left a small impact.
The OR15s were set to be auctioned off, but some of them, the one that would be called Orisa included, were so badly damaged that they were going to be sold as scrap metal. The chasis was purchased by Efi Oladele for one million naira, using some of her earnings granted to her by the Adawe Foundation.
Efi took the OR15 back to her workshop, where she deduced that the omnic would need a Brandford arm, a Tobelstein reactor to generate graviton fields, and a fusion driver; the only weapon that (in her mind) could subdue Doomfist. With her friends Hassana and Naade, Efi decided that the OR15 would need its own look and personality, taking inspiration from the Overwatch heroes of old. Hassana was given the task of the makeover, while Naade worked on finding a simulated voice for the unit.[7]
Activation
"
New personality module installed. System rebooting. OR15 oline.
But that name. No, that's no good. Every great hero needs a real name. What about...Orisa?
"
~ Orisa and Efi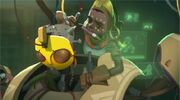 Efi managed to procure a Brandford arm (albeit one designed for OR14s), but it did come with a Luxor hard-light caster, capable of generating lassos and energy traps. It was well short of a fusion driver, but it would allow her robot to have some offensive capability. The trio worked on the robot for weeks, until Efi's impatience and heavy-handed work ethnic drove her friends away. Working on her own, it took a month of coding, debugging, and piecing the robot together. The final stage was to upload a personality core; a combination of open source artificial intelligence algorithms, "borrowed" military sub-routines, and a few of her own modifications.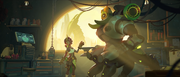 The robot was activated, with Efi naming it Orisa, named after the Orisha spirits of Yoruban mythology. Efi guided her creation through a series of logic exercises that she did well with at first, but she dropped a glass, shattering it. Efi cut herself while picking it up, causing Orisa to intervene, intent on using her hard-light caster to cauterize the wound. Efi shut her down using We Move Together As One. She bandaged herself up and reactivated Orisa, who concluded that since the wound was bandaged, it didn't need cauterization.
Efi wasn't dismayed, reasoning that Orisa was only a few hours old. She showed Orisa a cardboard cutout of Doomfist, informing her that this was her enemy. Orisa understood, eager to please her creator.[7]
Training
"
The false levity in your voice indicates that you are trying to cheer me up.
Is it working?
I do not think so. My processors are out of sync. They keep replaying the day's events over and over. I don't know where I went wrong. Judging from the tension of his facial muscles and his biometric readings, it seems that I have disappointed Mr. Bankolé. And you.
"
~ Orisa and Efi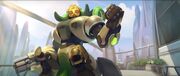 As it turned out, Efi waited two days to test Orisa's weapons, and only after reducing her weapon's output. They intended to take a tram to the outskirts of Numbani, though Orisa had trouble fitting in, and the attendant wasn't helping. They ended up walking. As they did so, they encountered a man trying to get into a car. Efi suspected that he was trying to break into it, which led to Orisa intervening. As it turned out, Efi's hunch had been correct, and the man fled. Efi, despite knowing that she should call the authorities, ordered Orisa to pursue the man, knowing that it would be a chance to see Orisa in action. Orisa succeeded, but only after destroying a statue in the process.[7]
Civics Lessons
"
This won't hurt a bit.
Efi, biometrics indicate you are under high levels of stress. Do you need a—
"
~ Efi and Orisa, just prior to Efi deleting Orisa's compassion module
The following day, Efi decided it was time to move onto the community relations portion of Orisa's training. Unfortunately, word of Orisa's blunder had got out, and it was only after pleading with Mr. Bankolé that he agreed to let Orisa stack cans in his grocery store. She succeeded, but her social interaction still needed work, as her mannerisms drove out all the customers from the grocery. Efi pointed out the lack of dented cans, but Orisa could tell that she'd let her creator down.
The pair returned to Efi's workshop. Efi was frustrated, believing that without a Tobelstein reactor, Orisa would have no chance of taking on Doomfist. Orisa offered to research alternatives, but Efi told her not to bother, as none of them could match the Tobelstein's power output. In the meantime, Efi suggested they head back out into the city, so that Orisa could get some practice with Numbani's laws. Orisa was uneasy, still regretting her earlier actions, but Efi told her that it was natural—that was what her empathy module was for, after all.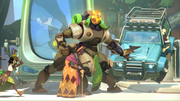 The two headed out to the streets. They ended up washing cars to raise funds until evening. However, the string of fortunate events came to a "crashing" halt as Orisa escorted a lady across the street, albeit without waiting for the light to turn. Orisa and the lady were unharmed, but not so much for the wrecked vehicle she'd stopped. Despondent, Efi sent Orisa back to her docking bay until she decided what was to be done next. She returned to the workshop and deleted Orisa's compassion module, reasoning that Orisa had been making so many mistakes because she cared too much.[7]
Day at the Museum
"
Enemy detected. Straight ahead.
You'll be destroyed! Pleaes come back.
Combat simulations indicate a high probability of victory.
Listen to me, Orisa. You are not ready to face Doomfist. Come home. I love you.
Empathy module: Not responding
"
~ Efi tries to get Orisa to stand down
The following day, Doomfist and his Talon forces attacked the Numbani Heritage Museum. Orisa set off by herself to confront him, ignoring Efi's pleas to stand down, as without her empathy module, Efi's impassioned pleas had no effect.
Orisa engaged the Talon forces, deploying her hard-light shield. However, it was brought down, and its deployment had drained Orisa of her power reserves. Like before, Doomfist used his strength against her, striking Orisa and sending her flying against a wall. Unlike last time, Orisa wasn't incapacitated (thanks to her auxilary power) but was very close to it. Before Doomfist could deliver the final blow, Efi interjected, putting herself between Doomfist and her creation. Doomfist rose her arm to strike her down, but Orisa fired a graviton pulse and re-deployed her shield. With the sound of sirens approaching, Doomfist and his lieutenants were forced to retreat.
Orisa realized that she'd used her processors to run Efi's computing apps, raising enough funds to purchase a graviton reactor from the Junkers (hence the ability to fire the graviton pulse).[7]
Shutdown
"
I am not ready to be deactivated. I have made a mistake, but I am fully capable of learning from my mistakes.
I love you, Orisa. And I'm sorry.
I'm still learning! I'm still—
"
~ Efi and Orisa just before the latter's shutdown
Efi made up with Naade and Hassana. Naade was assigned to teach Orisa combat tactics, but she was conflicted, as Naade insisted on the need to use dirty tactics, while Orisa didn't want to cause direct harm. Naade showed her footage of the airport attack, stressing that Doomfist wouldn't fight fair, and wouldn't hesitate to hurt people. However, Orisa began acting strangely after it. Efi later reflected that Orisa was "too impressionable" to see such footage, given that she was still in a learning stage.
Her fears were well founded, as Orisa saw one of the students dressed up as Doomfist and opened fire, injuring him. Back at her workshop, Efi sorrowfully shut Orisa down, despite her creation's pleas that she was still learning.[7]
Reactivation
"
It's good to be back. I am at your service.
How do you feel?
Sad. I remember I hurt a boy. He was in pain. Why did you disable my compassion module? I didn't get to apologize to him. To make things right.
I'm the one who should be apologizing. It was me who didn't want to deal with compassion. I got so focused on getting to Doomfist and keeping everyone else happy. I didn't consider your feelings. I was wrong, and I'm sorry.
"
~ Orisa and Efi, in light of the former's reactivation
Efi reactivated Orisa, equipping her with the long sought-after Tobelstein reactor, and reactivating her compassion module. The two made up, and Efi told her that they were attending a Unity Day concert with Lúcio Correia dos Santos in attendance. They danced to his music in celebration.
They met with Lúcio at the event, where they tested Orisa's supercharger. Afterwards, Orisa was on usher duty. With her compassion module reactivated, she performed her duties admirably. She later went to the concert. However, interupting Lúcio's performance, Doomfist and his Talon forces attacked. Lúcio told Orisa that he'd protect the crowd with his sound barrier if she could distract Doomfist. Affirming, Orisa engaged the terrorist. With all her upgrades, this time, the two were evenly matched, his attacks unable to dent her barrier. However, he ordered the Talon troopers to open fire on her. Orisa redirected the barrier, but this gave Doomfist an opening. However, Lúcio used his sonic barrier to protect her. In turn, Orisa deployed her supercharger, which helped their efforts, until one of the troopers destroyed it.
Things looked grim, but Efi used Lúcio's sonic amplifier to unleash a wave of sound, incapacitating the Talon agents, and causing them to flee. Doomfist was cornered, but took Bisi hostage as Lúcio and Orisa cornered him, holding the trooper over a drop as a bargaining chip. He ended up dropping Bisi over the ledge and fled. While logic dictated that Orisa engaged Doomfist, her heart won out, and she instead used a graviton surge to draw Bisi back up over the ledge. Doomfist escaped, but Lúcio said that it didn't matter. That she and Efi were heroes.[7]
A New Adventure
Awhile later, Orisa literally crashed into Efi's classroom. She revealed that her hard-light caster had been replaced with a fusion-driver, and that someone (referred to as "she;" Orisa refused to divulge details) was awaiting their arrival. She stated that she'd explain more when they were airborne.[7]
Achievements
| Name | Icon | Description | Reward |
| --- | --- | --- | --- |
| Overclocked | | Amplify 900 damage with a single use of Orisa's Supercharger in Quick or Competitive play. | Cute |
| Halt State | | Pull enemies into 1000 damage with a single use of Orisa's Halt! in Quick or Competitive Play. | Pixel |
Trivia
Orisa is Hero 24 and the third new hero added to the game.
Being only one month old, Orisa is the youngest hero in Overwatch.[2]
Orisa is the only hero in the game whose legs can be seen in first person view.
Orisa's in-house testing appearence was that of Gothic Zarya holding Bastion's minigun from Sentry Configuration.
Protective Barrier can be attached to movable objects like basketballs.
Orisa's "Heroes" spray is inspired by one the of the movie posters for A New Hope from Star Wars.
Weapons
Sojourn is possibly the one responsible for giving Orisa her fusion driver. In The Hero of Numbani, when asked about her new weapon, Orisa refers to "she," and tells Efi that they will make "a quick sojourn abroad."

By extension, the fusion driver is stated to replace Orisa's hard-light caster. This, however, does not appear to match Orisa's in-game functionality, where her fusion driver is located on her right arm, while her caster is mounted on her left arm.

In Overwatch 2, Orisa's arsenal changes significantly, as she gains the Terra spear, but loses the caster, and ability to generate graviton fields. Currently, no in-universe explanation exists for this.
Rumors
Development
While designing Orisa, the developers wanted to create an "anchor tank" — a character that the team is anchored by and bases its positioning around, such as behind Reinhardt's barrier shield ability. Additionally, they wanted to create a character with more ranged and mobile abilities.[5] Jeff Kaplan has stated that the inspiration to design Orisa as a female robot came from criticism that the game's female characters lacked the visually challenging uniqueness that the male characters exhibited.[5]
For Overwatch 2, Orisa was redesigned to be more of an offensive tank, as the developers noticed that she was losing a lot of close-quarters battles.[14]
Videos
Official
Curse
Balance Change Log
For more information, see Patch Notes
References
External links
Heroes in Overwatch

 


D.Va

Doomfist

Junker Queen

Orisa

Reinhardt

Roadhog

Sigma

Winston

Wrecking Ball

Zarya

Ashe

Bastion

Cassidy

Echo

Genji

Hanzo

Junkrat

Mei

Pharah

Reaper

Soldier: 76

Sojourn


Sombra

Symmetra

Torbjörn

Tracer

Widowmaker

Ana

Baptiste

Brigitte

Lúcio

Mercy

Moira

Zenyatta