Fire Emblem Warriors: Three Hopes - The Loop
Play Sound
Overwatch 2



Developer

Blizzard Entertainment

Publisher

Blizzard Entertainment

Release date

October 4, 2022[1]

Platforms

PC, Nintendo Switch, PlayStation 4, PlayStation 5, Xbox One, Xbox Series X
Overwatch 2 is the next iteration of Overwatch.
Overview
[
]
Plot
[
]
Overwatch 2 will have an ongoing plot, focused on a second omnic uprising. It will explore who is behind it. The plot takes place over the whole world.[2]
Gameplay
[
]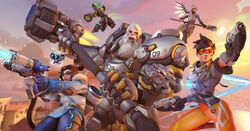 Overwatch 2 will feature both new PvE and PvP modes. An example of the former is Story Experience.[3] An example of the latter is Push. The modes will launch along with multiple new maps and heroes, new HUD, and a major engine upgrade. Overwatch 2 will replace the original Overwatch as an update, and as such, the PvP content will be free for existing users.[4] The game's PvP mode will be changed from 6v6 to 5v5, with the roles limited to one tank, two damage, and two support. The passives of these roles will be further altered—damage heroes will move faster, tank heroes will have knockback reductions (while receiving less charge when attacked by enemies), and support heroes will automatically regenerate health while out of combat.[5]
Updated appearances of all the current heroes will be exclusive to Overwatch 2.
Overwatch 2 will feature PvE story missions that are set after Overwatch was recalled by Winston. In these PvE missions, players can upgrade and customize abilities. Furthermore, PvE missions will also include items of various rarities that players can pick up and use to perform different effects (e.g. heal, damage, create a barrier, etc.). The PvE maps will be larger than those featured in the original game.[6]
Elite units have been added to PvE scenarios. Here, enemy units are altered to give them distinct properties that set them apart from their base forms.
The game introduces a Talents system.[2]
Monetization
[
]
Overwatch 2 utilizes a free-to-play model.[7]
Requirements
[
]
The following is a list of specs required for the PC version of the game:
Minimum
Operating system: Windows® 7 / Windows® 8 / Windows® 10 64-bit (latest Service Pack)  
Processor: Intel® Core™ i3 or AMD Phenom™ X3 8650  
Video: NVIDIA® GeForce® GTX 600 series, AMD Radeon™ HD 7000 series  
Memory: 6 GB RAM  
Storage: 50 GB available hard drive space
Recommended
Operating system: Windows® 10 64-bit (latest Service Pack)  
Processor: Intel® Core™ i7 or AMD Ryzen™ 5  
Video: NVIDIA® GeForce® GTX 1060 or AMD R9 380  
Memory: 8 GB RAM  
Storage: 50 GB available hard drive space[8]
The game is not being developed for Mac platforms.[9]
Development
[
]
Work on Overwatch 2 (in some form) began as soon as the original game shipped. The developers are considering cross-play between the PC and console versions.[10] Reportedly, Jeff Kaplan wanted Overwatch 2 to be a PvE-focused sequel, in order to get non-PvP players to try the game. Kaplan had wanted PvE to be in the original game,[11] but this never made it into the game's release as a permanent mode.
Pre-reveal
[
]
The existence of a second Overwatch game was hinted at by J. Allen Brack in May 2019.[12]
In a June 2019 Kotaku article, it was confirmed that Blizzard staff were being transferred from Ares to work on other projects. Among the rumoured projects they were sent to was a PvE focused Overwatch game that has been likened to Left 4 Dead.[13] While the game was expected to be revealed at BlizzCon 2019, a French employee had reported that they felt the game would not be released before 2020.[14]
In October 2019, ESPN had received information and a package regarding the information that was to be revealed at BlizzCon 2019. Among the package was information about Overwatch 2 being revealed, alongside a new gamemode Push and a new map Toronto. Hero talents and in-game items are also expected to be included in the game, but it is unknown whether they will be for the proposed PvE modes exclusively.[15] Their report was later updated, stating that it was likely the game would be called "Overwatch: Chapter 2," as opposed to "Overwatch 2."[16] A few days later, artwork of the game was leaked, showing heroes of the original game featuring redesigns.[17]
The game was revealed on 1 November at BlizzCon 2019.
Post-reveal
[
]
In late 2020, the size of the game's development team was expanded.[18] The game passed a "significant" development milestone in December 2020. By this point, the game had hundreds of developers working on it.[19]
During development, a 4v4 PvP layout was tested, along with changing the hero roster to 3 DPS, 2 support, one tank. The developers settled on changing PvP to 5v5.[20]
c. 2018/19, Team 4 made the decision to exclusively focus on development on Overwatch 2. However, as development stretched on, Overwatch vanilla received less focus. This led to a reduction in content.[21]
The game entered the "later stages of production" in the second half of 2021.[22] In April 2022, the Overwatch League will use the game.[23]
Alpha
[
]
The game entered its alpha phase in March, 2022, exclusively for its PvP mode. The alpha included select regions, Blizzard employees, Overwatch League pros, and a few other select groups.[24] The alpha was under an NDA.[21]
Beta
[
]
Blizzard will continue to work on the game's PvE content while the beta is being conducted.[25]
First Beta
[
]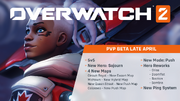 The first closed[21] PvP beta began on April 26, 2022, for PC in select regions, with the following elements:
Players could sign up to request access to the beta on PlayOverwatch.com.[24] Not all features from the base game were included (for instance, only quick play is available, as the developers wanted to prioritize making matches more quickly over splitting players into multiple queues).[26]
The beta ended on May 17.[27]
Second Beta
[
]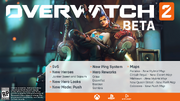 A second beta will be held. Players who took part in the first beta must still opt into the second, and progress will not be carried over. Opt-in is available until June 28, at which point the beta will go live. Players who purchase the Overwatch 2: Watchpoint Pack on a platform on which the beta is available will be granted immediate beta access.
New Hero: Junker Queen
New Map: Paraíso
New Look for All Heroes
Now Beta on Consoles (PC, Xbox, and PlayStation Consoles)
The second beta will end on July 18.[9]
Graphics and Sound
[
]
The game's heroes have undergone an artistic redesign. The redesign varies from hero to hero, but each seeks to be true to the hero's core story, and to imply where the heroes have travelled, or who they've spent time with between games. Evolutions to the game's technology, like new shaders and lighting, have allowed greater detail in character rendition, which translates to more emotion via facial features and body language. To further improve the feel of the world, the art team explored ways to push the technology and bring environments to life using weather systems, fog changes, improved cloth, more particles, and sequenced events. Dynamic weather effects, first introduced in Storm Rising, has been improved.[28]
The game's weapons have been given a sound and graphics overhaul. New software was used for the system, and sounds from real-life firearms was collected. The game's firearms will sound different depending on the environment they're fired in (e.g. firing a weapon outside won't have the same effect as firing a weapon inside). A "camera shake" effect is employed when firing weapons, simulating recoil.[2]
Story
[
]
The developers intend for the game to have a cinematic feel to it, taking inspiration from the cinematics that were released sporadically during the time period of the first game. The game's plot was storyboarded, where developers would conceptualize cutscenes via whiteboards on a daily basis. Later, the storyboards were sent to the writers' room to refine the plot.[2]
References
[
]