Share your love of Overwatch by contributing to the Overwatch Wiki.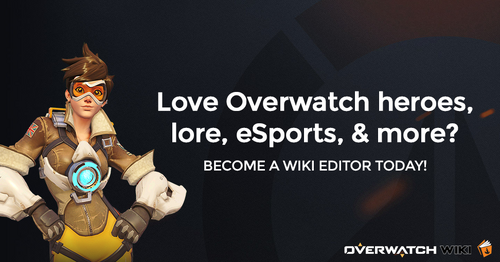 Calling All Soldiers
Do you love Overwatch? Help grow the best Overwatch resource on the web by becoming an editor on the Overwatch Wiki!
We're looking for passionate, knowledgeable players to join our editing community. As more lore is revealed and the competitive scene grows, we'll need your help! There are no special permissions required to add information to most pages on the wiki - just start editing!
Have questions? Feel free to reach out to Mr Pie 5 for more information.
Expanding the Wiki for eSports
Would you like to add eSports information to the Overwatch Wiki? Contact Dan1691 on his user page!
Information that needs to be added includes:
Teams: For teams, we'll have the team's history, timeline, players, support staff, sponsors, etc.
Players: For players, we'll have the player's biography, achievements, social media, team history, role, favorite hero, statistics from their professional matches, trivia, etc.
Tournaments: For tournaments, the information we'll add will cover all aspects of the tournament's format, prize pool, teams participating, standings, head-to-head match-ups, lists of weekly matches, schedule & vods, additional content such as interviews or articles related to said tournament, etc.
Learning to Edit
Want to help grow the wiki, but don't know how to edit? Check out these resources to get you started!
Additional Questions
Want more information or need assistance? Contact BriannaMCR on her user page.