Particle Barrier
Personal barrier type
200 barrier
HP
Lasts 2 seconds or until destroyed
10-second cooldown
The Particle Cannon can emit a personal barrier that shields Zarya against incoming attacks, redirecting their energy to enhance her weapon's damage and the width of its beam.
Default Key: (

,

,

)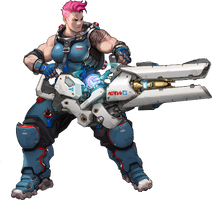 Details
Zarya creates a bubble-shaped barrier around herself. The barrier has 200 health and lasts for 2 seconds.
Zarya's Energy will increase 1 point per 5 shield damage taken. The maximum Energy point that Zarya is able to gain in one use of barrier is 40.
While the barrier holds, Zarya is immune to most forms of crowd-control, such as Mei's Endothermic Blaster freezing effect, Roadhog's Chain Hook, and the pinning effect of Reinhardt's Charge. She is, however, not immune to crowd-control effects that pierce through the barrier, such as the knockback effect of Winston's Primal Rage and Reinhardt's Charge.
Patch changes
Community content is available under
CC-BY-SA
unless otherwise noted.