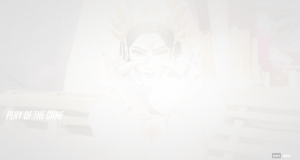 The Play of the Game, abbreviated to PotG, features various gameplay aspects highlighted at the end of each match.
Details
Moments taken from four categories are compared against each other to find the best Play of the Game for that round of play. The Play of the Game categories available are as follows:
High Score: This category is intended to feature large multikills and quick killstreaks. The larger the multikill, the quicker kill streak, and the closer one is to an objective will all increase a player's "High Score" score. There are many things that outrule High Scores, normal kills are worth more than ultimate kills, headshots kills are worth more than normal kills, then there's solo kills and environmental kills that have even more impact than that.
Lifesaver: This category is intended to feature situations where one player is able to save a teammate from imminent death. For example: If a player stuns or kills an enemy Reinhardt who has a teammate pinned, that player would be awarded a large amount of "Lifesaver" score.
Sharpshooter: This category is intended to feature difficult or skillful kills. For this category, the game will be looking at factors like movement speed, the distance at which the attack occurred, whether or not the attack was a headshot, and if the victim of the attack was in the air at the time, etc. Each of these variables will increase a player's "Sharpshooter" score.
Shutdown: This category is intended to feature moments in which one player interrupts an opponent right as they were about to do something particularly impactful. An example of this would be if a player kills an enemy Lúcio in the middle of casting Sound Barrier for his team. In this instance, the game will predict how impactful that Sound Barrier would have been and then award the player an appropriate "Shutdown" score in return.
The player who has the highest score in any one of these four categories at the end of the match will receive the Play of the Game. If the winning Play of the Game category is Lifesaver, Sharpshooter, or Shutdown then the category name will be called out during the highlight intro. If the winning category is High Score, however, no callout will be provided. All the other losing performances will become a Highlight instead.
Patch changes
Community content is available under
CC-BY-SA
unless otherwise noted.