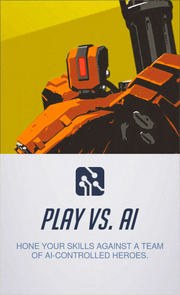 Play vs. AI is one of Overwatch's game modes, which can be accessed from the Training menu. In this mode, players can team up and battle against AI-controlled characters.
Details
Players can queue up either solo or in a party, and they will be matched into a 6 player vs. 6 AI game.
There are 3 difficulties: Easy, Medium and Hard. Each difficulty will correspond to the AI's play style.
Experience Gained
For more information, see Progression.
Experience is the same for all difficulties.
First Win of the Day: 1,500XP
Win: 300XP
Match Finish: 150XP
Time: 120XP per minute (Value approximate; it is closer to 2.015 points/sec)
Medals: The experience granted for medals only counts the highest quality medal received, and is only applied once no matter how many medals are received. For example: if a player has two gold medals and one silver medal, only 90XP is received for one gold medal.

Gold Medal: 90XP
Silver Medal: 60XP
Bronze Medal: 30XP

Consecutive Match: 120XP
Backfill: 240XP
Group Bonus: +20%XP
Leaver Penalty: -75%XP
Patch changes
Community content is available under
CC-BY-SA
unless otherwise noted.