Shield Bash Stunning movement type 5 damage 6

m

range Lasts 1 second 7-second cooldownOnce her Barrier Shield is deployed, Brigitte can dash forward to stun an enemy.Default Key: (

)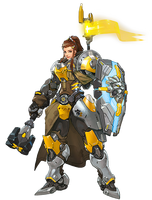 Details
Brigitte dashes 6 metres forward with her shield that does a flat amount of 5 damage and stuns the first enemy hit for 1 second, interrupting whatever ability they were casting. The ability is stopped if it hits an enemy barrier and will not stun the enemy through the barrier. Additionally, Brigitte will knock down and be knocked down by a charging target when she shield bashes into them. For example, Charge or Rocket Punch.
This ability is reliant on use of Barrier Shield to be available prior to use. If Brigitte's Barrier Shield is not activated or has been destroyed, Shield Bash will be unavailable until Barrier Shield is available once more and used.
Patch changes
Community content is available under
CC-BY-SA
unless otherwise noted.