Line 3:
Line 3:
 
 
 

[[Doomfist]] was present in the city when he was confronted by an [[Overwatch (group)|Overwatch]] strike team consisting of [[Winston]], [[Genji]], and [[Tracer]]. Doomfist was defeated, but a significant portion of the city was damaged in the process.<ref>''[[Overwatch Storm Rising]]''</ref><ref name = "DoomfistOrigin">2017-07-06, [https://www.youtube.com/watch?v=vaZfZFNuOpI NEW HERO – COMING SOON Doomfist Origin Story | Overwatch]. ''YouTube'', accessed on 2017-07-08</ref>

 

[[Doomfist]] was present in the city when he was confronted by an [[Overwatch (group)|Overwatch]] strike team consisting of [[Winston]], [[Genji]], and [[Tracer]]. Doomfist was defeated, but a significant portion of the city was damaged in the process.<ref>''[[Overwatch Storm Rising]]''</ref><ref name = "DoomfistOrigin">2017-07-06, [https://www.youtube.com/watch?v=vaZfZFNuOpI NEW HERO – COMING SOON Doomfist Origin Story | Overwatch]. ''YouTube'', accessed on 2017-07-08</ref>

 
+
 
+

At some point prior to the Overwatch recall (possibly part of the above incident), a [[Talon]] operation took place in the city, resulting in civilian casualties.<ref>''[[What You Left Behind]]''</ref>

 
 
 

==References==

 

==References==
---
Revision as of 13:55, 28 August 2019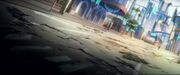 Singapore is a city-state located in southeast Asia.
Doomfist was present in the city when he was confronted by an Overwatch strike team consisting of Winston, Genji, and Tracer. Doomfist was defeated, but a significant portion of the city was damaged in the process.[1][2]
At some point prior to the Overwatch recall (possibly part of the above incident), a Talon operation took place in the city, resulting in civilian casualties.[3]
References