m

Line 1:
Line 1:
 

[[File:Singapore.jpg|thumb|Singapore]]

 

[[File:Singapore.jpg|thumb|Singapore]]

 

'''Singapore''' is a city-state located in southeast Asia.

 

'''Singapore''' is a city-state located in southeast Asia.

 
+
 
+

Dr. [[Mina Liao]], one of the six founding members of [[Overwatch (group)|Overwatch]], and a former employee at [[Omnica Corporation]] who helped in the creation of the [[Omnic|omnics]], is from Singapore.

 
 
 

[[Doomfist]] was present in the city when he was confronted by an [[Overwatch (group)|Overwatch]] strike team consisting of [[Winston]], [[Genji]], and [[Tracer]]. Doomfist was defeated, but a significant portion of the city was damaged in the process.<ref>''[[Overwatch Storm Rising]]''</ref><ref name = "DoomfistOrigin">2017-07-06, [https://www.youtube.com/watch?v=vaZfZFNuOpI NEW HERO – COMING SOON Doomfist Origin Story | Overwatch]. ''YouTube'', accessed on 2017-07-08</ref>

 

[[Doomfist]] was present in the city when he was confronted by an [[Overwatch (group)|Overwatch]] strike team consisting of [[Winston]], [[Genji]], and [[Tracer]]. Doomfist was defeated, but a significant portion of the city was damaged in the process.<ref>''[[Overwatch Storm Rising]]''</ref><ref name = "DoomfistOrigin">2017-07-06, [https://www.youtube.com/watch?v=vaZfZFNuOpI NEW HERO – COMING SOON Doomfist Origin Story | Overwatch]. ''YouTube'', accessed on 2017-07-08</ref>
---
Revision as of 07:12, 21 March 2020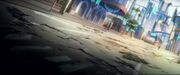 Singapore is a city-state located in southeast Asia.
Dr. Mina Liao, one of the six founding members of Overwatch, and a former employee at Omnica Corporation who helped in the creation of the omnics, is from Singapore.
Doomfist was present in the city when he was confronted by an Overwatch strike team consisting of Winston, Genji, and Tracer. Doomfist was defeated, but a significant portion of the city was damaged in the process.[1][2]
At some point prior to the Overwatch recall (possibly part of the above incident), a Talon operation took place in the city led by Captain Cuerva, resulting in civilian casualties.[3]
References