Raise a Floppa - The Loop
Play Sound
Sojourn




Real Name

Vivian Chase[1]

Status

Active

Nationality

Canadian

Occupation

Special forces operative (formerly)
Overwatch captain (formerly)
Acting commander (formerly)[1]
Toronto, Canada

Affiliation

Canadian Special Forces (formerly)
Overwatch (formerly)

Cherise Boothe

(English)

Soyoung Lee (Korean)

Quotes

Quotation page
Sojourn is a Damage hero, set to be released with Overwatch 2.[2]
Overview
[
]
As a former Overwatch Captain, Sojourn fields abilities designed to plan, lead, and execute strikes on her opposition. Sojourn offers a unique mid-range gameplay experience and a kit packed with some incredible mobility and artillery.[3]
Abilities
[
]
The railgun's primary fire is a rapid projectile that generates energy on hit. The energy Sojourn generates from her primary charges up her secondary.
Sojourn's secondary fire uses energy stored from getting hits from primary fire.

It can be fired when charged to the maximum of 100 energy.

After 6 seconds without gaining energy, Sojourn's secondary fire energy will begin decaying at a rate of 50 per second.
The secondary fire can be charged off of damage dealt to shields.
Ground slide that can cancel into a high jump
This is rocket-powered slide that can be cancelled into a high leap at any time by jumping. This allows easy repositioning of Sojourn.
Sojourn can fire while sliding.
Launch an energy shot that slows and deals damage to enemies within it.
Disruptor Shot is an AOE ability that will snare enemies and eat away at their health. Sojourn can use this to increase the effectiveness of her railgun.
<span style="cursor:help; border-bottom:1px dotted" title="Passively gain 100% in Error: Invalid time.">
Railgun energy auto-charges for a short duration and charged shots pierce enemies.
Overclock fully refills Sojourn's energy in 1.2 seconds.
Strategy
[
]
Sojourn can be a difficult hero to play—the more accurate the player's aim, the more effective they're going to be with her railgun, resulting in a high skill ceiling with a lot of power weighted in her railgun's secondary fire.[3]
Story
[
]
Sojourn was a member of Overwatch, joining at some point in the organization's Golden Age and staying with them into their twilight years.[4]
Sojourn is detail-orientated. She is a brilliant tactician,[3] a great leader,[5] and a "measure twice, cut once" type of individual.[3]
Sojourn has had a lot of cybernetic upgrades in her life, starting out of necessity in her childhood, before moving onto voluntary upgrades.[3] Sojourn's legs and arms are cybernetic. Her left arm can transform into a disruptor cannon,[6] and her legs are equipped with boosters that allow her to slide across the ground.[3] At some point, she received cybernetic brain upgrades. Sojourn is at peace with her enhancements;[7] for her, her cybernetics are a means to an end, but only the objective matters.[3]
Background
[
]
| | | |
| --- | --- | --- |
| " | My unit of the Canadian Special Forces teamed up with Overwatch during the Omnic Crisis. Jack Morrison and I worked well together, and after the war, he reached out. | " |
| | ~ Sojourn | |
Vivian Chase grew up in Toronto,[5] and required cybernetic upgrades in her childhood. Later, she joined the Canadian military, where she voluntarily received cybernetic upgrades, choosing her abilities to be the most effective fighter she could be.[3] She became a member of the Canadian Special Forces, where during the Omnic Crisis, her unit worked alongside Overwatch. She met Jack Morrison, and the two worked well together in the field. After the war was over, Morrison reached out to Chase for a chance to join Overwatch, to which she agreed.[1]
Overwatch
[
]
"
Sometimes I ran point for our agents in the field. Other times, I commanded the operation. No matter what their mission was, mine was to bring every last one of them home.
It sounds like you hoped for the impossible.
I know. But they gave me the impossible every single day.
"
~ Sojourn and an IJC member discussing the former's experiences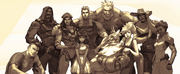 As a member of Overwatch, Chase was given the callsign "Sojourn." Her duties involved "whatever was needed." Sometimes she ran point for agents in the field, other times, she commanded the operation. Sojourn made a point of always bringing her operatives home.
Sojourn featured in the Overwatch cartoon that aired before the group was disbanded. In one episode, Sojourn led her fighters in a battle against Talon. Even though they were heavily outnumbered, Sojourn and her crew didn't rest until every Talon agent was eliminated.[4]
Storm Rising
[
]
"
Tracer. Status report.
Target in sight captain.
We've waited a long time for Maximilien to show his face. It's now or never.
No pressure then.
"
~ Tracer and Sojourn during the operation
After Overwatch struggled to arrest Doomfist following the King's Row Uprising, Sojourn suggested to Strike-Commander Jack Morrison that the organization change tactics by instead arresting Doomfist's accountant, Maximilien. She soothed Jack's anxieties about sending the strike team out after an in-field incident with Reinhardt, and she believed that Jack would agree with her that Tracer has grown as a leader since the King's Row Uprising. She assigned Tracer to lead a strike team of Mercy, Winston, and Genji in the mission to track Maximilien.[9] In the operation, she supported the team via radio, and they successfully apprehended Maximilien.[7]
The End of Overwatch
[
]
| | | |
| --- | --- | --- |
| " | It was the honor of a lifetime to have served with Overwatch. But you can love a thing with your whole heart and still know it's time to say goodbye. Even the best journeys end. But a new one is right around the corner. | " |
| | ~ Sojourn | |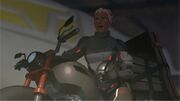 After Morrison's apparent death at Overwatch HQ, Sojourn was made acting commander of the organization. She was later brought before the IJC to testify, where she detailed her service history. When Overwatch was shut down, Sojourn personally removed her belongings from a now empty Watchpoint: Gibraltar. While she was honored to have served with Overwatch, she knew "it was time to say goodbye," and left the base on a hovercycle.[1]
After Overwatch's disbandment, Sojourn laid low in Canada.[10] She went back to Toronto, where she lived alongside her pet dog.[5]
Recall
[
]
| | | |
| --- | --- | --- |
| " | The world could always use more heroes. If only it were that simple. After all, heroes aren't born. They're made. | " |
| | ~ Sojourn | |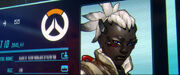 Years later, Sojourn was one of the group's former members recalled by Winston.[8] She ended up rejoining the organization at some point after Null Sector's attack on Paris.[11] She fought against Null Sector in Toronto, when the omnics besieged the city.[12]
Trivia
[
]
Her name is a possible reference to the African-American abolitionist Sojourner Truth.
Sojourn is said to be "right at the center" of the overall plotline of Overwatch 2.[13] It has been stated that her introduction will "move the story forward."[14]
Sojourn is possibly the one responsible for giving Orisa her weapon. In The Hero of Numbani, when asked about her new weapon, Orisa refers to "she," and tells Efi that they will make "a quick sojourn abroad."
Sojourn is "widely respected" by most of the game's heroes.[5]
A Sojourn-themed cinematic will be released at some point.[5]
Development
[
]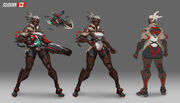 Sojourn was part of the game's lore by 2014. Development on Sojourn as a hero began this year, or by 2015 at the latest.[15]
When designing Sojourn, the developers looked back at Overwatch and considered what archtypes were missing. They concluded that a railgun-type hero was missing.[12] The developers wanted to make a mid-range hero that rewarded accuracy, but still make it fun for varying levels of skill and gameplay.[3]
Visually, the design for Sojourn took inspiration from Angela Bassett and Serena Williams.[14]
Initially, Sojourn's railgun functioned similarly to railguns in other FPS games, with lots of single, high-powered shots. This proved difficult to balance, but the developers liked the gameplay, so the developers changed the gun to having a primary rapid-fire mode, with the single, high-powered shots relegated to its secondary fire.[5]
After the railgun was solidified, the developers began experimenting with Sojourn's other abilities. They wanted her mobility to reflect earlier FPS games with railguns in the past. Sojourn's power slide ability was added early on, and the developers stuck with it.[5] It was added as the developers wanted to add a vertical element to her kit to enable her to quickly access high-ground vantage points and help solidify her role as a mobile damage hero.[3]
Originally, Sojourn's disruptor shot did massive damage to barriers, but the ability was finalized to complement her secondary fire.[3] There was debate as to whether it should be thrown, or come out of her wrist, akin to Pharah's wrist-rocket ability.[5]
Sojourn had a few alternate ultimates before Overlock was settled on. One of them was a massive railgun shot that could penetrate numerous obstacles.[5] Overlock was designed to feel like a hitscan version of Genji's Dragon Blade.[3]
Miranda Moyer has drawn comparisons between Sojourn and Ana. Both are the first new heroes released for their respective games, but both have a wealth of pre-established character relationships to draw from.[5]
Leaked screenshots from Overwatch 2 depicted Sojourn with a maple leaf logo on her left shoulder.[16] During the BlizzCon 2019 Overwatch: What's Next panel, Jeff Kaplan confirmed that Sojourn was Overwatch's first Canadian hero.
Sojourn will become playable in the Overwatch 2 beta.[17]
References
[
]
↑ 1.0 1.1 1.2 1.3 2022-04-13, Sojourn Origin Story YouTube. Accessed on 2022-04-15
↑ 2019-11-02, STORY MISSIONS, HERO MISSIONS, PUSH MAPS, AND MORE–OVERWATCH 2 "WHAT'S NEXT" PANEL RECAP. Blizzard Entertainment, accessed on 2020-05-16
↑ 3.00 3.01 3.02 3.03 3.04 3.05 3.06 3.07 3.08 3.09 3.10 3.11 2022-04-14, HEROES AREN'T BORN, THEY'RE MADE: AN IN-DEPTH INTRODUCTION TO SOJOURN. Blizzard Entertainment, accessed on 2022-04-20
↑ 5.0 5.1 5.2 5.3 5.4 5.5 5.6 5.7 5.8 5.9 2022-04-16, Overwatch 2: Sojourn | Developer Update. YouTube, accessed on 2022-04-20
↑ 2022-04-15, Sojourn Gameplay Trailer | Overwatch 2. YouTube, accessed on 2022-04-20
↑ 8.0 8.1 2019-04-16 "Third! In addition to Recall and Storm Rising, she also appears in Ana's origin story." Twitter. Accessed on 2019-04-16.
↑ 2019-04-08. Overwatch on Twitter: "> Accessing archived file... Decryption status: IN PROGRESS Target: Located… ", Twitter. Accessed on 2019-04-08.
↑ 2019-11-01, Overwatch 2 Gameplay Trailer. YouTube, accessed on 2019-11-08
↑ 12.0 12.1 2021-02-20, BlizzConline 2021 | Behind the Scenes of Overwatch 2 | Overwatch. YouTube, accessed on 2021-03-13
↑ 2019-11-07, BlizzCon 2019 Overwatch 2 Panel Transcript. Blizzplanet, accessed on 2020-04-10
↑ 14.0 14.1 2022-04-14, OVERWATCH 2'S NEW HERO SOJOURN WAS A LONG TIME COMING. The Verge, accessed on 2022-04-20
↑ 2019-04-23, Overwatch Has Had A Black Female Character 'In Development' For Four Years. Kotaku, accessed on 2022-04-20
↑ 2019-10-30, New 'Overwatch 2' Leak Bares More Details About Sojourn's Origin. IB Times, accessed on 2019-10-30
↑ 2022-03-10, OVERWATCH 2 COMMUNITY UPDATE. Blizzard Entertainment, accessed on 2022-03-11
Heroes in Overwatch

 


D.Va

Doomfist

Orisa

Reinhardt

Roadhog

Sigma

Winston

Wrecking Ball

Zarya

Ashe

Bastion

Cassidy

Echo

Genji

Hanzo

Junkrat

Mei

Pharah

Reaper

Soldier: 76

Sojourn


Sombra

Symmetra

Torbjörn

Tracer

Widowmaker

Ana

Baptiste

Brigitte

Lúcio

Mercy

Moira

Zenyatta