Storm Bow Charged arcing projectile type ∞ rounds per clip 

29

-

125

damage 

0.8

-

2

shots per second 

30

-

130

m/s

projectile speed 

3.85

m/s

movement speed 0.75 seconds to fully charge arrow, 0.5 seconds buffer ✔ Can headshot

Hanzo nocks and fires an arrow at his target.

Default Key: (

,

,

)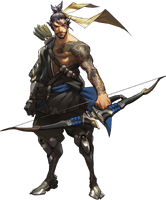 Details
Hanzo fires arrows from his bow that deal 29-125 damage, depending on how far the bow is drawn. The farther the bow is drawn, the more linear and faster the arrow will travel. It takes 0.75 seconds to draw the bow to its maximum charge and there is a 0.5 second delay between shots. The player can press either the secondary fire key/button (

,

,

) or the reload key/button to cancel a charged arrow.
Trivia
Hanzo's targeting reticle is slightly different from other heroes. It consists of three descending levels from center, allowing players to line up their shots while accounting for the natural drop of the projectile.
Patch changes