World of Warcraft: Dragonflight - The Loop
Play Sound
Symmetra

"The true enemy of humanity is disorder."



Real Name

Satya Vaswani (सत्य वासवानी)

Age

28

Nationality

Indian

Occupation

Architech
Utopaea, India

Affiliation

Vishkar Corporation
Anjali Bhimani (English)

Tulika Srivastava (French)
Sanam Afrashteh (German)
Deborah Morese (Italian)
Hitomi Nabatame (Japanese)
Lim Yun-seon (Korean)
Guilene Conte (Brazilian Portuguese)
Carla Castañeda (American Spanish)
Silvia Sarmentera (European Spanish)
Elise Zhang (Mandarin (China))
Jhang Nai-wen(Mandarin (Taiwan))

Cosmetics

Cosmetic page

Quotes

Quotation page

Role

Damage

Health

100

Shields

125
Symmetra is a Damage hero in Overwatch.
Overview
Symmetra utilizes her light-bending Photon Projector to dispatch adversaries, shield her associates, construct teleportation pads and deploy particle-blasting Sentry Turrets.
Abilities
Photon Projector


Area of effect:
0.2 meter beam width
Ammo usage:
7 per second
+7 per second gained against barriers
Reload time:
1.35 seconds
Short-range beam weapon with increasing damage. Damaging Barriers does not consume ammunition.
Details:
Levels up by hitting an enemy or an enemy object (e.g. barrier, turret, mine, etc.) for 1.33 seconds. If the beam is not hitting anything, it decays from level 3 to level 2 in 4.0 seconds and from level 2 to level 1 in 2.0 seconds.
Generates ammo instead of consuming it when attacking barriers.
When the beam starts or hits a new target, it temporarily does less damage than normal. If left uninterrupted on a single target, this will yield to 23 less damage.
Photon Projector


Direct hit: 120 (full charge)
Splash: 15-60 (full charge)
Projectile speed:
25 meters per second
Area of effect:
2 meter radius
Rate of fire:
9 rounds per second while charging (max. 9)
0.25 second recovery
Ammo usage:
1-10 rounds based on charge time
Reload time:
1.35 seconds
Hold to charge, release to fire explosive orb.
Details:
Takes 1 second to fully charge and can be held for 1 second.
Automatically consumes 1 round when fired, meaning the minimum number of rounds consumed is 2 and the maximum is 10.

When spamming small orbs, sometimes this does not apply and orbs that only consume 1 round can be fired.
If there is only 1 round left, an energy ball can still be fired.

The damage is scaled off charge time, not ammo consumption.


Projectile speed:
15 meters per second
Max. range:
10 meters (turret beam)
Ammo:
3 stored
Max 3 on the field
0.5 seconds (cast animation)
~1 second (deployment)
Cooldown:
10 seconds per charge
Deploy a small turret that damages and slows enemies.
Details:
Turrets are projectiles until they hit a wall, at which point they will deploy.
While in the air, Sentry Turrets cannot attack but can still be destroyed. They pass through enemy barriers.
Unaffected by Defense Matrix, Deflect, or Kinetic Grasp.


Symmetra places a temporary teleporter exit pad at a distance and connects it to a teleporter entry pad at her current location. Allies (and some of their abilities, such as Junkrat's RIP-Tire) can travel from the entry pad to the exit pad instantly.
Health:
50 health
250 shields
Healing:
Regenerates 30 shields per second, after avoiding damage for 3 seconds
Max. range:
30 meters (placement)
40 meters (max. absolute range)
Area of effect:
1.5 meter (interact range)
Create two teleporters that enable instance travel between them.
Details:
Requires the player to use the Interact key to activate, unless it's an entity separate from a player, in which case it will teleport automatically. (Turrets, D.Va's MEKA when self-destructing, etc)
Cannot be used while in spawn.
Can be manually destroyed by pressing the ability key again, including while dead.
If the entrance and exit are more than 40 meters apart, they are automatically destroyed.
After Teleporting, there is a 1 second cooldown before it can be reused again for that same player.

Symmetra deploys a massive energy barrier which prevents ranged attacks and is big enough to cut through the entire map.
Area of effect:
Entire map
(~484 m × 50 m)
Ultimate cost:
1680 points
Strategy
Symmetra's abilities provide both defensive and positional advantages to her team. She can cover chokepoints with her Sentry Turrents, deploy a Teleporter to provide teammates higher ground or ambush the enemy team, and split the map in half with her Ultimate. Her low health and mobility means that she must coordinate with her team in order to survive.
Weapons & Abilities
Photon Projector (weapon): Symmetra's main weapon. The projector has two modes of fire: a short range beam, and a chargeable, explosive energy ball.
Primary fire's range is rather lacking (at 12 meters), so it is best used in combination with Teleporter.
Primary fire also has a high tickrate, meaning it doesn't fare very well against armor, and it is a bit difficult to consistently maintain the beam on the target. However, given that attacking barriers recharges the weapon's ammo as well as helping ramp up its damage levels, it is a good idea to target nearby enemy barriers first, then firing at enemies, taking advantage of the fully charged and reloaded beam.
Secondary fire requires quite a bit of leading at longer ranges, but it makes up for primary fire's low range. A fully charged orb deals considerable damage (120), requiring only one full charge and one semi charged orb to secure a kill. Rapid firing orbs is only recommended if you need to hit very low health targets, since it has low damage per second.
Sentry Turret: Symmetra launches a small turret that fires slow beams at enemies.
Another very good ranged tool in her arsenal, her turrets can help cover different parts of the map at once, such as chokepoints.
Throwing turrets at a full enemy team is not very effective, as they can be shot out of the air.
Teleporter: Symmetra builds a teleporter between two locations.
This ability can give you free reign over high ground, or otherwise inaccesable parts of the map, for both you and your team.
It is a decent ambush tool, given you can teleport an unlimited amount of allies and things over its duration. A common tactic is to set up 3 turrets on the ground, and then placing a teleporter into the enemy team, giving them a sudden burst of damage that they have to deal with. However, it has drawbacks. The enemy can see (and hear) the ambush coming, since it has a lengthy deploy time. During this time, they can prepare for the attack, or plainly destroy the teleporter.
Photon Barrier (Ultimate): Symmetra sets up a barrier that cuts the map in half.
Useful for blocking enemy snipers' line of sight, used reactively against enemy Ultimates, or to protect choke points from "poke" damage.
Given its infinite range and ability to change orientation, Symmetra can cast this ability from spawn, or anywhere else on the map and still be effective. A good tip for such usage is to point at the objective marker, and checking your teammates chevrons.
Not many heroes can break the barrier on their own before time runs out, but if the whole enemy team is dealing a large amount of damage, it will not stop them for long.
General Strategy
Match-Ups and Team Synergy
Tank
| Hero | Match-Up | Team Synergy |
| --- | --- | --- |
| D.Va | Due to her high health, excellent close-range damage output, and supreme mobility, D.Va is one of your worst enemies. If she leads her team into battle, she can allow herself to be targeted by your Sentry Turrets and quickly take them out without any difficulty. Her Boosters let her engage and disengage at will; even if you're targeting her with your Photon Projector and have her near death, she can escape at a moment's notice to regroup and heal, leaving you few ways to pursue. That being said, her Defense Matrix can't protect her from your primary fire, and as she is a stationary, slow-moving enemy, you can very rapidly build up your power. If the D.Va isn't able to quickly take you out or if she chooses not to flee, your Photon Projector will eventually rip through her Mech. When D.Va's out of her Mech, her low health and complete lack of mobility makes her a prime target; whether you see a Pilot D.Va roaming around or take out her Mech yourself, make it your mission to finish her off before she gets her Mech back. This is especially easy if you take out her Mech with your Photon Projector; your increased damage will carry over, so you can target D.Va right after she jumps out of her Mech to finish her off in an instant. Photon Barrier can protect your team from an incoming Self-Destruct; just be sure to position the barrier so your team is safely behind it. | If a friendly D.Va wants to be tricky with you, you can deploy a Teleporter behind enemy lines and she can send her Mech through it during Self-Destruct. If timed right, you can catch the opposing team off guard and wipe them out. |
| Orisa | (To be added) | (To be added) |
| Reinhardt | Your Photon Projector actually gains ammunition rather than using it when attacking an enemy barrier. With this in mind, if you keep your weapon trained on an enemy Reinhardt, you will rip through his barrier in seconds while charging yourself to maximum power; should he drop the barrier or have it be destroyed, you can follow up by running him down with your charged up Photon Projector. This makes Symmetra an effective counter to Reinhardt, drastically reducing the ability of his barrier to protect himself and his team. Just don't get too arrogant and up in his face, as a quick Charge or a few hammer blows can easily kill you. If he's caught by your Sentry Turrets, he can gradually take them down in a few hammer swings if they're close enough. Your turrets won't affect him much; he's already slow and bulky, so slowing him down further and dealing slight damage won't matter much in the long run. If you anticipate an oncoming Earthshatter, quick deployment of Photon Barrier can protect yourself and your team; if you attempt to do it in reaction to him using it, though, you'll most likely be a second too late. | (To be added) |
| Roadhog | Like most low health heroes, all it takes is a single Hook from Roadhog and you're down for the count. You can counter this by keeping your distance, but this won't help take him out any quicker. Like other Tanks, your Sentry Turrets won't effect him that greatly, and if left to his own devices he can take them out without much difficulty and follow up with Take a Breather. If you're forced into a close range fight with him and he doesn't hit you with his Chain Hook his large hitbox can allow you to rapidly charge up your Photon Projector; even if he heals himself with Take a Breather, you should be able to quickly run through his health, so long he doesn't hit you with his Chain Hook once its cooldown has worn off. In general, outside of close quarters team fights, keep your distance and let your team deal with him. | (To be added) |
| Sigma | (To be added) | (To be added) |
| Wrecking Ball | (To be added) | (To be added) |
| Winston | It's debatable whether D.Va or Winston is Symmetra's worst nightmare. Whichever is the case, Winston will spell instant doom for you and your efforts. His Tesla Cannon can track multiple weak enemies at a time, letting him instantly annihilate a clustered Sentry nest in seconds. Your Photon Projector may be able to quickly ramp up, but his Tesla Cannon will be able to track you even if you try to avoid it. A direct one on one fight comes down to who has higher health walking in, and considering Winston has 400 Health and 100 Armor compared to your 100 health and 100 Shields, a direct encounter will rarely end well in your favor. If you have a healer supporting you, your ramped up damage will prevail in a prolonged battle. Winston has his Projected Barrier to reduce incoming damage, and while attacking it can charge up your Photon Projector and refill its ammunition, in that amount of time he can either attack you from the safety of the barrier or use his Jump Jet to easily escape from an encounter that isn't going in his favor. Even if you bring him down to low health, don't assume the battle is over; he can trigger Primal Rage at a moment's notice, instantly restoring his health and letting him knock you away with ease. Try to stay with your team and never stray alone, otherwise you'll be easy pickings for Winston. | (To be added) |
| Zarya | Due to the tendency of your Sentry Turrets to continue attacking the first target they see, an enemy Zarya can easily activate a Barrier to soak up damage and power up her Particle Cannon prior to destroying the Turret. This also provides a quandary on whether or not you should pressure her with your Photon Projector, increasing both your and her offensive output, or if you should wait until the barrier is down, entering a fight with a weaker Photon Projector. As a rule of thumb, whichever of you has a more charged-up weapon at the start of the fight will most likely win it. If you and your team are grabbed by Graviton Surge, you can quickly throw donw a Teleporter for you and your team to escape through. However, this not only requires instant reaction time from you, but also communication with your teammates so they realize what you're doing and to use your Teleporter. | (To be added) |
Damage
| Hero | Match-Up | Team Synergy |
| --- | --- | --- |
| Ashe | (To be added) | (To be added) |
| Bastion | You can't do much against a planted Bastion. You can heckle him with secondary fire from your Photon Projector, but if he doesn't gun you down while you peek your head around corners, he can heal himself in the period between your shots. Your Sentry Turrets won't effect him quite as much since he most likely won't be roaming the battlefield. If your Sentry Turrets catch him by surprise, he can Self-Repair to withstand long enough to focus fire on them. You can deploy a Teleporter behind him to catch him off guard, but if he notices and snaps around, he can gun down both the Teleporter and any teammates who have traveled through it. Your best bet is wait for your team to take him on together. | (To be added) |
| Cassidy | When fighting Cassidy at close range, it is crucial to avoid his Flashbang, as this will spell instant death. While you can use your secondary fire to launch energy balls his way, it's generally best not to engage him at long range where he has the advantage unless you're protected behind a barrier. Instead, try to lure him into one of your Sentry traps; his slow but powerful fire won't matter if he's being targeted by multiple Turrets, making him easy to take out. In the time between when you hear Cassidy announce his Deadeye and when he shoots, you can quickly deploy your Photon Barrier to completely block his attack. | (To be added) |
| Doomfist | (To be added) | (To be added) |
| Echo | (To be added) | (To be added) |
| Genji | Genji's Deflect ability does nothing to counteract your Photon Projector's primary fire, leaving him with only Swift Strike and his Shuriken. However, as Genji can use his agility to constantly jump around, it may be difficult to keep your laser trained on him. Your Sentry Turrets will lock on to Genji and slow him to a crawl, so if possible try to draw him into an enclosed area where you have turrets set up. His Shuriken can't easily deal with your Turrets, meaning a well-placed trap can cause instant death for him, especially if your team can pressure him before he can escape. | (To be added) |
| Hanzo | At range, Hanzo easily has you beat. One lucky shot can instantly take you out. If you manage to sneak up on him and bring the fight to close quarters, you still have Storm Arrows to worry about. Should you avoid them, you may stand a chance if you can efficiently avoid his shots. He will have difficulty with turrets, needing to charge his bow to take them out one at a time; if you catch him trapped in a turret nest, you can take this opportunity to ambush him and take him out. | (To be added) |
| Junkrat | With access to a large number of area of effect abilities, Junkrat can quickly destroy Sentry Turret nests as well as your Teleporter. Even if kill him at close range, his death will trigger Total Mayhem, which can be difficult for you to escape from alive. Be extra cautious around Junkrat. | (To be added) |
| Mei | You and Mei both have abilities that are more effective the longer you're in combat. Mei's Endothermic Blaster will freeze you if she hits you with it long enough, and your Photon Projector will get more and more powerful the longer you're targeting her with it. However, if Mei is close to death, she can enter Cryo-Freeze to restore health. During this time, your Shields will regenerate, albeit not at the same rate of her self-healing. Mei can't do much against your Sentry Turrets, so rather than following her into a fight, try to goad her your way so you can lure her into a trap. | (To be added) |
| Pharah | The splash damage from Pharah's rockets makes it easy for her to destroy Sentry nests as well as your Teleporter without putting herself at risk. In addition, Pharah can easily avoid both the primary and secondary fire from Photon Projector while she is in the air, making her extremely difficult to attack. However, if Pharah uses Barrage against your team while Photon Barrier is ready, you can quickly break it down to negate all of the damage and/or cause Pharah to take recoil damage and kill herself. If you catch Pharah at a low altitude, especially if she's being hit by one of your Turrets, you may be able to quickly finish her off before she takes to the skies; otherwise, be extremely cautious around her and stay out of sight. | (To be added) |
| Reaper | You may be lethal at close range with a charged Photon Projector, but Reaper can hit even harder without the need to charge his weapon up. Even if you get him near death or catch him in a Sentry trap, he can simply enter Wraith Form to regain his lost speed and make a hasty retreat, whereas you have no means of escape if you're close to death unless you happen to be near your Teleporter. If he flees with Wraith Form, do not attempt to follow him unless none of his allies are around to protect him, and even then you should only chase him if he's on the brink of death. You can attempt to heckle him with secondary fire from your Photon Projector at a distance, but he may be able to avoid your attacks. Only engage if he's at low health, if you're in a group fight protected by your team, or if he's caught in a trap and hasn't activated Wraith Form yet. A quick Photon Barrier can protect your team from being hit by Reaper's Death Blossom. | (To be added) |
| Soldier: 76 | Soldier: 76's Helix Rockets can make quick work of a Sentry Turret or a cluster grouped close together, though their long recharge means he'll have to rely on his Heavy Pulse Rifle to deal with any remaining turrets. Due to the thin effective range of your Photon Projector, a jumpy Soldier: 76 may be able to avoid your attacks while hitting you with his own, making a one on one fight dangerous. If he attempts to Sprint away, only try to follow him and finish him off if he's near death; if he gains too great of a distance or still has substantial health, let him go and deal with him later. Be certain not to leave your Turrets or Teleporter out in the open, or else he can pelt them with his Helix Rockets without breaking a sweat. If possible, try to trick Soldier: 76 into fleeing to an area where you have turrets set up; in the time it takes him to react to him, you should be able to catch up and finish him off. Photon Barrier can help protect your team when Soldier: 76 activates his Tactical Visor. | (To be added) |
| Sombra | Sombra's Hack barely affects you; you lose the ability to deploy Turrets, your Teleporter and your Photon Barrier for a time, but if you're caught in a firefight with her, that means very little. Your Sentry Turrets will strip her of her exceptional mobility, making her an easy target. If she wishes to escape, she can fling her Translocator away and warp to safety. If this happens, it's usually not worth chasing after her; with Thermoptic Camo, she can easily outrun you and regroup with her team. Be cautious of where your Sentry Turrets and Teleporter are located, as she can sneak behind enemy lines to hit them from a distance. Her EMP can be devastating to you; not only will it disable any Sentry Turrets and your Teleporter within line of sight, it will remove Shields on both you and your allies, reducing you to a measly 100 health, and it will destroy your Photon Barrier Ultimate in an instant. If you're hit by EMP, try to take cover until it wears off; at 100 health and no turrets to assist you, you'll be an easy target for any opponent. | (To be added) |
| Symmetra | Symmetra mirror matches are rare, but they always come down to who lures who into whom's trap. Unless the enemy Symmetra is on the verge of death, do not follow her past a choke point, or else you'll be playing right into her hand and stepping into a probable Sentry Turret nest. When an enemy Symmetra uses Photon Barrier, it may be tempting to just fire away at it with your Photon Projector to power it up to maximum strength. However, you'll never run through its massive health in time, so instead you should briefly use the Photon Barrier to charge up your Photon Projector before turning your weapon on any foes who are on your side of the enemy barrier. If they are all staying on the opposite side of the barrier, don't pass through it without your team nearby, because even with your maximum-power gun you'll still be torn apart. Keep the inverse of these tips in mind regarding the opposing Symmetra; try to lure her into your own Sentry nest if possible, and be wary of her having a fully-charged Photon Projector if you've activated your Photon Barrier. | (To be added) |
| Torbjörn | You can heckle Torbjörn's Turret from a distance with your secondary fire; this will deal a decent amount of damage, but not so great that the Torbjörn can't repair it. This also requires you to peek in and out of corners, and unless you're being protected by a shield, the Turret can chip away at your health at a distance. If you manage to close the gap on Torbjörn, you'll have a better shot at fighting him up close than at a distance. Just try not to fight him and his Turret at the same time; wait until his Turret is down, or wait until you have teammates to help you take him down. | A Turret deployed by Torbjörn through your Teleporter will come out on the other end; this can be handy if you wish to deploy his Turret at a far away location, or even at a higher altitude where he normally wouldn't be able to reach. |
| Tracer | Tracer's high mobility allows her to avoid your Photon Projector. She can also Blink through Sentry Turret nests and can quickly find and destroy your Teleporter. Your best bet to combat Tracer is to have Turrets nearby, which will slow her to a crawl and make her easier to pin down. Tracer will have difficulty destroying your turrets unless she attacks them at extremely close range, which will leave her weak enough to kill of if you reach her before she can Blink or Recall away. | (To be added) |
| Widowmaker | A fully-charged headshot from Widowmaker is enough to take you out; if you stand in the open, your lack of mobility makes it incredibly easy for Widowmaker to kill you in a shot or two. You can handle yourself much better at close range, but Widowmaker's Grappling Hook can make it difficult to keep her pinned down. She will also most likely be keeping away from close corridors, making your Sentry Turrets less viable against her (not to mention if you leave them out in the open, she can easily take them out from a distance). If you leave your Teleporter unprotected, Widowmaker can destroy it from a distance as well. If an enemy Widowmaker uses Infra-Sight, you can use Photon Barrier to keep your team safe from enemy fire if the situation calls for it. | (To be added) |
Support
| Hero | Match-Up | Team Synergy |
| --- | --- | --- |
| Ana | If you leave your Turrets in the open, Ana can take them out from a distance. However, should you close the gap on her, or lure her into a Sentry nest, you should have the upper hand. Biotic Grenade can cause trouble, though, so be cautious. | (To be added) |
| Baptiste | (To be added) | (To be added) |
| Brigitte | (To be added) | (To be added) |
| Lúcio | One of Lúcio's greatest strengths is his ability to glide around an objective consistently out of reach to confuse his opponent. Your Turrets will be a great boon in lowering his speed and unpredictability, helping you keep a consistent aim to take him down. When fighting a Lúcio, it's best to keep your turrets spread out so they can't be destroyed in succession; even one turret's slowdown will be enough for your team to take the shot and take him out. | (To be added) |
| Mercy | Mercy's Guardian Angel will allow her to flee from a fight with you, but often not so far that you can't chase after her. If she's being protected by her team, don't go charging in after her. If possible, try to lure her into a position where you have turrets set up, which will slow her down enough for you to get an easy kill. | (To be added) |
| Moira | (To be added) | (To be added) |
| Zenyatta | Zenyatta is easy enough to take down at close range, but at mid to long range, he has you beat. He can hit you with an Orb of Discord and swiftly take you out with a couple of shots. Use your Teleporter to close the gap or take him by surprise, and you should have little difficulty eliminating him. Otherwise, try to lure him into a Sentry Turret nest where he'll be brought to a crawl and can be easily disposed of. | (To be added) |
Story

"The true enemy of humanity is disorder."
Symmetra literally bends reality,[1] and she is the Vishkar Corporation's premier hard-light architech.[2] By manipulating hard-light constructs, she crafts the world as she wishes it to be, in hopes of engineering a perfect society. Symmetra believes her actions serve the greater good in society, though there are times when she wonders whether the control and order she desires are truly best for humanity.[1] When light-bending, Symmetra uses Kathak dance movements.[2]
Symmetra is on the autism spectrum;[3][4] she has demonstrated traits associated with the condition such as having trouble with social interactions, suffering from sensory overload and preferring environments that are structured and harmonious.[3] She finds it hard to sit still and has set routines, which ensure there is always order and calm in some part of her life. Even in hotels, she has time alone and cleaves to her routines as much as possible. As a child, she struggled with understanding metaphors, though as an adult, she is more adept at understanding such figures of speech.[2]
While Symmetra does not hesitate to carry out missions of dubious morality for her company (such as digging up blackmail material to sabotage competitors), she dislikes killing and only resorts to lethal force if she has to.[3]
Background
Satya Vaswani grew up in desperate poverty[2] in Hyderabad, India. By her recollection, it was not a pleasant environment to grow up in;[3] hunger was a constant issue, the village was overcrowded, and the drinking water was murky. As a child, she danced, finding it would calm her anxiety. She was able to make a few visits to temples, but over time, she forgot about them. She would later reflect that she was not old enough to understand faith and religion at the time.[2]
Vishkar
Following the Omnic Crisis, the Vishkar Corporation of southern India began the laborious process of creating new, self-sustaining cities to house the nation's displaced population. One such city, Utopaea, was created using radical hard-light technology that enabled its architechs to shape the city's streets, utilities, and living spaces in the blink of an eye.
After she was identified as one of the few capable of becoming a light-bending architech, Vaswani was plucked from extreme poverty and placed in the care of Vishkar's Architech Academy, never to return home. Isolated and lonely in her new life, Vaswani immersed herself in her education and training. She quickly grasped the applications of the technology and was one of the top students in her class. Vaswani approached hard-light manipulation differently than her peers, with their more procedural, mechanical constructions, instead weaving her constructs in the motions of the traditional dance of her homeland.
Though she was one of Utopaea's top architechs, the Vishkar Corporation saw far greater potential in Vaswani's abilities. Giving her the moniker "Symmetra," Vishkar sent her on clandestine missions around the world to uphold its corporate interests and expand its influence into other countries.[1]
A Better World
| | | |
| --- | --- | --- |
| " | We're making the world a better place... | " |
| | ~ Symmetra | |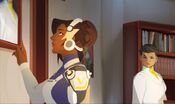 Vaswani was present in Rio de Janeiro as Vishkar tried to secure a deal with the mayor to re-develop the city's slums with its hard-light technology. However, the mayor favored a deal with Calado, a prospect that left Vaswani frustrated, as she believed Calado's proposal to be inferior and impractical. Storming out of the mayor's office, she came across a crowd of protesters who were against the re-development of their neighborhoods. Due to her own childhood experiences, Vaswani couldn't understand how they could bear to live in such "disgusting" conditions. As she tried to navigate through the protesters, she became overwhelmed by the sounds and the smells, leading her to lose her way. Then, a young girl called out to Vaswani and offered to guide her back to her hotel. Motivated by the encounter, Vaswani vowed that Vishkar would secure the deal and help Rio's people, no matter what.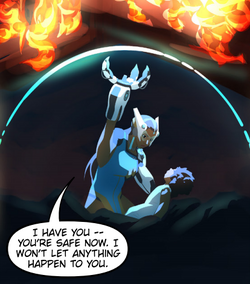 That night, Vaswani, on the orders of Sanjay Korpal, infiltrated the Calado building to find information Vishkar could use against him. Breaking into Calado's vault, she managed to find some compromising material, but nothing substantial. Vaswani was then discovered by Calado's guards, but she created a barrier to deflect their shots, following which she used her photon projector to drain their energy. Sanjay questioned why she didn't just kill them, but Vaswani insisted she only resorted to lethal force if she had to. She subsequently escaped the building, with her pursuers being impeded by traps she had set up in advance.
Outside, Vaswani contacted Sanjay, confirming that she didn't have enough on Calado to bring him down and suggesting they try to get to the mayor instead. Sanjay simply responded with "so be it," and a second later, the Calado building was consumed in a fiery explosion. While Sanjay explained that Calado wouldn't stand in their way, Vaswani stared in shock as the building collapsed, with debris falling into the adjacent slum that she had passed through earlier that day. Vaswani made her way down to the favela, which had become enveloped in flames, and spotted a woman that was pointing towards a house while crying for help. Realizing there was still someone inside, Vaswani used her photon projector to forge a path and protect herself from the fire. Eventually, she found the young girl from before, trapped underneath debris, and freed her. Upon carrying her back to her mother, Vaswani realized the girl's face had been severely burnt and feebly hoped Vishkar could "fix it," along with the favela.
A few months later, the situation had indeed been "fixed," as Vishkar had carried out its redevelopment of Rio's city center, now that Calado had been taken out. Standing with Sanjay as the mayor gave a speech, Vaswani observed that new housing had yet to be provided. Sanjay affirmed that "appropriate" housing would be provided in time, to which Vaswani responded by questioning whether the favela's destruction by fire had been intended by Vishkar. To this, Sanjay stated it was "the price of rebirth and growth." Looking out over the crowd, Vaswani tried to convince herself that Vishkar was indeed, making a better world.[3]
Stone By Stone
Dispatch
| | | |
| --- | --- | --- |
| " | We'll send you over now. Find out what they want. A retreat center, a nice lump sum for repairs—we'll even rebuild the temple ourselves. Whatever it costs, it's a drop in the bucket compared to the loss of development rights. | " |
| | ~ Sanjay's orders to Vaswani | |
Vaswani attended a Vishkar meeting with Sanjay, head geologist Harita Patel, and PR rep Tamir Chandra. Development in Roshani had triggered a tremor in the region, which had caused damage to a temple in the neighboring village of Suravasa, and a statue inside said temple to collapse. Chandra stated that if Vishkar didn't sort the issue out soon, they could kiss development rights in the area goodbye. Sanjay turned to Vaswani, 'suggesting' that she could volunteer in the village, pointing out her small village background, and her role as Vishkar's premiere hard-light architech. She would give the villagers anything they wanted, as no matter the cost, it would be a drop in the bucket compared to the financial loss of losing development rights.
Going over the hologram of the site, Vaswani asked who the statue was of. Chandra stated that it was of Aurora; the first omnic to achieve sentience. Vaswani, familiar with Aurora's history, told them that the villagers would want more than just money, that they would want something better. Sanjay told her to find out what that was, and do whatever it took to make it happen.[2]
Suravasa
Vaswani arrived in the village. Word of her coming had spread ahead, and Sarpanch Ranesh Grewal, head of the local government, told her that they wanted nothing to do with Vishkar. The gathered crowd was just as antagonistic. Still, she was granted access to the temple at her request, for despite Grewal's antagonism, the temple was open for all. An omnic led her inside, and Vaswani found herself reminded of her childhood, when she had visited temples when the rare opportunity had presented itself.
The omnic who led her inside introduced himself as Zenyatta; a pilgrim to the temple. He told her that it was good that Vishkar was taking responsibility, but that it would mean nothing if the help wasn't actually helpful. He told her that she was welcome to stay if it helped her understand the people here and their faith. She was taken aback, pointing that she was an architech who had come to fix a problem, not a pilgrim, but Zenyatta asked what was a pilgrim, but someone who had embarked on a journey to a holy place? She was taken aback at the invitation, but she knew that Sanjay's suggestions of financial compensation wouldn't work, so perhaps following Zenyatta's advice would be a better outcome. Despite her anxiety at the prospect, she accepted Zenyatta's offer.[2]
The Temple
| | | |
| --- | --- | --- |
| " | Kintsugi urges us to think differently. Instead of hiding something broken, celebrate it. Your passion for what you do elevates architecture beyond simple construction. Without blemishes, a house is just a building. Flaws and joys are what make it a home. Your dancing may be imperfect, but imagination, creativity—these things are not unharmonious with faith. They are expressions of it. | " |
| | ~ Zenyatta to Symmetra | |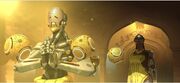 Zenyatta led her through the temple. He told her about Mondatta, and the two bonded over their shared trouble with human figures of speech. Reaching the main shrine, they came to the remains of Aurora's statue. He told her of Aurora's history, helping her understand why the villagers were so bereaved that it had been damaged. Moved by the story, Vaswani blurted out that Vishkar wanted to help, but Zenyatta stated that help could come in many forms. Building a retreat center would do little good, and there was no need to build a new temple given that this one was still standing, even if it was damaged. Its history, after all, stretched back over a thousand years.
The two retired for midday meal, where Zenyatta told her more about Aurora. Afterwards, Zenyatta took her to a bas-relief of Aurora. Come night, she retired to one of the temple's outlying buildings, where she was given a sleeping mat and temple robe. While she didn't want to wear it at first, as she wasn't a pilgrim (despite what Zenyatta said), she found herself attracted to the colors and changed. The following morning, she met with Zenyatta, admitting that while she didn't want to wear it, she wanted to demonstrate her sincere desire to help. Over the next few days, she moved with the other pilgrims; tidying the main shrine, picking up pieces of stone, and tidying the main area. She was told that a team of workers would remove the larger, heavier pieces in a few days time.
To her surprise, the priests didn't meditate, but were given orbs to ponder. Zenyatta gave her the Orb of Perception, so that she might perceive what she needed. Over the following days, she found herself adjusting to life in the temple, falling into a routine that suited her. On the fourth day, she and the priests went into the village where they served food to anyone who was hungry. The villagers were still antagonistic to her, but Zenyatta stood beside her, giving her silent support. That evening, discussing events with him, she stated that the scene reminded her of her childhood. They discussed the nature of faith, and Vaswani's architech background, before moving on to discuss the concepts of Wabi-sabi and Kintsugi. She was moved by Zenyatta's words, and wished that she had heard of such ideas long before now. Reflecting on his words and the concepts he had imparted to her, she realized what she...they...had to do.[2]
Union
Achievements
| Name | Icon | Description | Reward |
| --- | --- | --- | --- |
| The Car Wash | | Hit an enemy with 3 beams simultaneously as Symmetra in Quick or Competitive play. | Pixel |
| Huge Success | | Teleport 20 players in a single Quick or Competitive play game as Symmetra. | Cute |
Trivia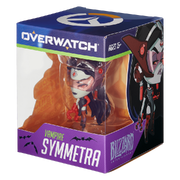 Chris Metzen has hinted at Symmetra possessing ulterior motivations.[5] According to Michael Chu, Symmetra is not an "evil" character in the same vein as Reaper or Widowmaker, though her actions could lead individuals within the setting to view her as a villain.[6]
Symmetra is an amputee, missing her left arm. It is unknown how or when she lost it, and whether or not her glove is a permanent prosthetic replacement or simply a glove.[8]
As of September 2016, Symmetra was the least played hero in Overwatch.[9]
Prior to her June 2018 rework in Patch 1.25, Symmetra was the only hero to have a choice between two Ultimates: Teleporter and Shield Generator.
As of June 2018, Symmetra is currently the only hero to receive more than one total rework. The Developers have hinted that Symmetra may be reworked a third time in the future.
Symmetra can place sentry turrets on a basketball in spawn rooms, and then carry said ball out onto the field using her Photon Projector. However, the turrets will be destroyed if they make contact with any walls, floors, and objects in the environment.
A "Vampire Symmetra" Cute but Deadly figure was made available during the Halloween Terror 2018 Event.[10]
Development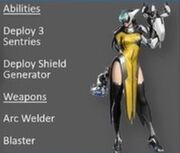 Symmetra's design originated as a playable class called the Architect in the cancelled Project Titan. In the original pitch for the game that would become Overwatch, she was envisioned as wielding an arc welder and blaster, and could deploy sentry turrets and shield generators. In a later pitch she was given "orb buffs," which were ultimately given to Zenyatta. Her arc welder and blaster were later changed when the idea of hard light constructs were incorporated into her design. Her teleporter was taken from the Engineer class, which served as the basis for Torbjörn, and she would eventually receive the Architect's shield generator as a second ultimate in Overwatch.[11]
Symmetra's backstory was expanded through the development of Lúcio, as his backstory includes involvement with Vishkar as well.[12] Symmetra being autistic was initially hinted at in the "A Better World" comic, and later officially confirmed by a letter from Jeff Kaplan to a fan.[13]
Symmetra is the only hero so far to have been recieved two significant ability reworks since the game launched; one in patch 1.6.2 (2017) and another in patch 1.25 (2018).
Videos
Official
Curse
Balance Change Logs
For more information, see Patch Notes
References
↑ 2.0 2.1 2.2 2.3 2.4 2.5 2.6 2.7 Cite error: Invalid <ref> tag; no text was provided for refs named StoneByStone
↑ 2016-05-13, Confirmation of "spectrum" in A Better World referring to the autism spectrum ("ASD" refers to "Autism Spectrum Disorder"), Twitter.
↑ 2014-11-24, BlizzCon 2014 – Overwatch Unveiled Panel Transcript. Blizzplanet, accessed on 2015-03-08
↑ 2015-08-16, Reddit Q&A about Solider[sic] 76 | Overwatch. Blizzplanet, accessed on 2015-08-06
↑ 2016-03-26, Blizzard Patches Masturbation Gag Out Of Overwatch. Kotaku, accessed on 2016-03-26
↑ 2016-12-10, Blizzcon 2016 Overwatch Q&A Panel Transcript. BlizzPlanet, accessed on 2018-11-16
↑ Game Informer #81: Designing Overwatch: From Titan to Torbjörn
↑ 2018-10-09, OVERWATCH HALLOWEEN TERROR GEAR AVAILABLE NOW. Blizzard Entertainment, accessed on 2018-10-10
↑

Blizzcon 2017, Overwatch: Archives

↑ 2015-12-10, How Blizzard is making up Overwatch's story as it goes. PC Gamer, accessed on 2015-12-24
↑ 2017-03-09, Overwatch fan theory about Symmetra finally confirmed by Blizzard. Polygon, accessed on 2017-03-10
External links
Heroes in Overwatch

 


D.Va

Doomfist

Orisa

Reinhardt

Roadhog

Sigma

Winston

Wrecking Ball

Zarya

Ashe

Bastion

Cassidy

Echo

Genji

Hanzo

Junkrat

Mei

Pharah

Reaper

Soldier: 76

Sojourn


Sombra

Symmetra

Torbjörn

Tracer

Widowmaker

Ana

Baptiste

Brigitte

Lúcio

Mercy

Moira

Zenyatta