Arcane: League of Legends - The Loop
Play Sound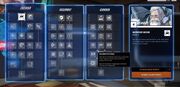 Talents are a gameplay feature of Overwatch 2. They are special augmentations on the abilities of heroes to be used in the Hero Missions and Story Experience modes of the game.[1] This feature was announced during Blizzcon 2019.
As of BlizzConline, the current Talent system is based on a skill tree. Each hero appears to have three different trees (e.g. Reinhardt's trees are Crusader, Juggernaut, and Guardian), with a number of talents they can spend within said trees.[2]
Development
[
]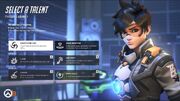 A hero's level determines which Talents they could potentially take. Each hero appears to have 6 Talents, split amongst 3 tiers. The player began with the first tier unlocked at Level 1, and unlocked the other two tiers at Level 10 and 20, respectively. Each tier contained 2 Talents, and a player could only select 1 Talent from each tier.
At the beginning of a mission, after choosing their hero, a player was able 1 Talent from each tier they have unlocked with that hero's level.
Below is a list of all known talents prior to the revamped system. Talents of unknown level have only been seen in promotional material, and have no indication of their level.
List
[
]
References
[
]