Venom Mine Arcing splash projectile type 15 damage per second  Max 75 total damage 5 HP 20

m/s

projectile speed 3

m

radius Lasts

until destroyed

,

5 seconds

 15-second cooldown

Widowmaker adheres a swiftly-arming venom mine to nearly any surface. When a target wanders within range of the mine's motion trigger, it explodes, delivering poison gas to any enemies in the vicinity.

Default Key: (

,

,

)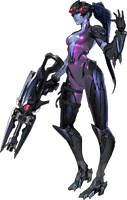 Details
When an enemy passes within 3 meters of the mine, it detonates and gasses enemies within the vicinity. This gas deals 15 damage per second at for 5 seconds.
The attack deals 5 hits per second, meaning that armor will halve the total damage of the mine.
Widowmaker can see the location of her venom mine through walls and is alerted when it detonates.
Widowmaker can see poisoned enemies through walls.
Enemies can destroy venom mines from a distance.
Only one mine can be active at a time. Launching a new mine will harmlessly remove any previous mine.
The poison effect is removed upon picking up a health pack.
Trivia
The Venom Mine's hooks allow it to be attached to nearly any surface.[1]
Venom Mine is incorrectly named. As it releases a cloud of gas, it should be classified as a poison, and not a venom. A venom is a toxin that is specifically injected into the subject in some way, such as a bite or a sting, while poison delivers its toxins to the subject indirectly, such as through contact, digestion or inhalation.
Patch changes
 August 29, 2017 Patch: Affected targets are now visible through walls (to you as Widowmaker only).
 January 24, 2017 Patch: Fixed a bug preventing Widowmaker's Venom Mine from attaching to walls.
 November 15, 2016 Patch: Explosion no longer damages the player who placed the mine.
References
Community content is available under
CC-BY-SA
unless otherwise noted.