Watchpoint: Grand Mesa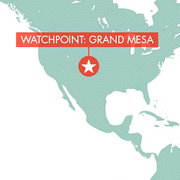 Watchpoint: Grand Mesa is a former Overwatch watchpoint located at Grand Junction, Colorado, within the Rocky Mountains.
After its shutdown, the base was overseen by personnel from Helix Security International. However, an unidentified intruder was able to overcome them and enter the base, making off with a pulse rifle. None of the personnel were killed, though some received minor injuries.[1]