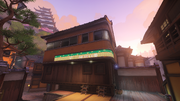 Yamagami Blades is a smithy located in Kanezaka. It was the home and business of Asa and Toshiro Yamagami, along with their daughter.
Eight years ago, the Hashimoto clan abducted Toshiro, forcing him to forge blades for them. In the intervening years, the smithy was shut down, and seven/eight years after Toshiro's abduction, Asa and her daughter moved into the building's upper level.[1]
Trivia
[
]
The sign literally reads "Yamagami Sword Workshop" (山神刀剣工房, Yamagami Tōken Kōbō).
References
[
]