Line 51:
Line 51:
 

| ability_video =

 

| ability_video =

 

| ability_details =

 

| ability_details =

−

* Energy increases the damage of both firing modes, but does not increase the damage of Graviton Surge.

+

* Energy increases the damage of both firing modes, but not of Graviton Surge.

 
+

* Energy does not deplete while shields are active.

 

}}

 

}}

 

{{Ability_details

 

{{Ability_details

Line 167:
Line 168:
 

| ability_video = e4EXaCcRbQk

 

| ability_video = e4EXaCcRbQk

 

| ability_details =

 

| ability_details =

−

* Certain movement abilities, such as Tracer's Blink, are disabled to be used within the effect of Graviton Surge.

+

* movement abilities, such as Tracer's Blink, are disabled within the effect of Graviton Surge.

 

}}

 

}}

 
 
---
Revision as of 04:24, 26 August 2017
Zarya

"Together we are strong."



Real Name

Aleksandra Zaryanova (Александра Зарянова)

Age

28

Nationality

Russian

Occupation

Soldier

Base

Krasnoyarsk Front, Russia

Affiliation

Russian Defense Forces
Volskaya Industries

Voice

Dolya Gavanski (English)

Alexia Lunel (French)
Maddalena Vadacca (Italian)
Mitsuki Saiga (Japanese)
Fernanda Mammana (Brazilian Portuguese)
Laura Torres (American Spanish)
María Jesús Varona (European Spanish)

Cosmetics

Cosmetic page

Quotes

Quotation page

Role

Tank

Health

200

Shields

200

Character Video
Zarya is a Tank hero in Overwatch.
Summary
Aleksandra "Zarya" Zaryanova is a Russian, pink-haired soldier who loves to play around with particles and gravity. Her primary weapon of choice is a particle cannon which can shoot beams and balls of energy, and create shields for herself and her allies. A powerful Tank, Zarya can turn the damage she absorbs into energy to fuel her weapons, dishing out damage as she defends her team.
Official tips
Zarya is a heavily shielded tank that uses barriers to protect herself and her allies.
Fire her weapon's primary beam at nearby enemies, and its secondary fire at long range.
The Graviton Surge pulls enemies into it and damages them.
Abilities
Energy
Damage blocked increases Particle Cannon damage.
Damage:
+1% per point of energy
Ammo:
100 points of energy
Ammo usage:
-2 points of energy per second
Reload time:
+1 point of energy per 5 points of damage absorbed
Details:
Energy increases the damage of both firing modes, but not that of Graviton Surge.
Energy does not deplete while shields are active.
Particle Cannon


Type
Weapon (Primary Fire)
Zarya's mighty Particle Cannon unleashes a short-range beam of destructive energy.
Damage:
95 per second
5-6 per round
Rate of fire:
20 rounds per second
Particle Cannon


Type
Weapon (Secondary Fire)
Aim Type
Arcing Splash Projectile
Alternatively, Zarya can lob an explosive charge to strike multiple opponents.
Projectile speed:
23.5 meters per second
Rate of fire:
1 shot per second
Ammo usage:
25 rounds per shot
Details:
Energy level increases explosion radius.
Particle Barrier


10 seconds
The Particle Cannon can emit a personal barrier that shields Zarya against incoming attacks, redirecting their energy to enhance her weapon's damage and the width of its beam.
Details:
Particle Barrier behaves differently compared to normal barriers, acting more like additional Health than Reinhardt's Barrier Field. Damage and effects from attacks that normally pass through a barrier, such as Winston's Tesla Cannon, will still be absorbed by Particle Barrier.
As long as Particle Barrier has at least 1 Health worth of absorption left, it will prevent all incoming negative effects, no matter their damage.
The ability will not protect Zarya from knockback.
Projected Barrier


8 seconds
Zarya surrounds one of her teammates with an energy barrier that simultaneously absorbs fire and boosts the power of her Particle Cannon.
Details:
Projected Barrier behaves identically to Particle Barrier. For more ability details, see Particle Barrier.


1875 points
Aim Type
Arcing projectile
(initial cast)
Area-of-effect (ability start)
Zarya launches a gravity bomb that draws in enemy combatants and deals damage while they're trapped.
Projectile speed:
23.5 meters per second
Ultimate cost:
1875 points
Details:
Most movement abilities, such as Tracer's Blink, are disabled within the effect of Graviton Surge.
Strategy
Zarya is a challenging Tank to play, though one of the most rewarding when played well. She gains Energy by absorbing damage with her barrier abilities, increasing her own damage substantially. At maximum Energy, she is a monstrous threat to the enemy team, tearing them apart in seconds with her Particle Cannon. Her Ultimate has some of the highest playmaking potential in the game, with the ability to trap entire teams in a single spot for her allies to fire upon. All of this comes with a severe weakness: she is the softest of the Tanks, with the lowest base Health out of them (save for Orisa), and only an infrequent, short-duration barrier to protect her and her team.
Weapons & Abilities
Energy (Passive): Zarya spawns with 0 Energy and can gain a maximum of 100 Energy. Energy is gained when her Particle Barrier or Projected Barrier absorb damage, at a rate of 1% energy for every 5 points of damage absorbed. For every 1 Energy Zarya has, the damage of her Particle Cannon is increased by 1%. Energy will slowly decay over time at 2% every second.

Maintaining a high level of Energy is critical to Zarya's gameplay. At low Energy levels, Zarya isn't much of a threat. At high Energy levels, Zarya is a significant damage dealer that the enemy team ignores at their peril.
Particle Cannon: Zarya's main weapon. The primary fire, when held down, shoots out a hitscan beam that deals continuous damage to the first enemy it hits. The secondary fire consumes more ammunition and shoots out a grenade-like ball of energy that detonates when it hits an enemy or solid surface, dealing damage in an area. This detonation will damage Zarya; the damage will be negated by Particle Barrier, but does not return any Energy.

The primary fire is useful for taking down single targets, while the secondary fire is useful for damaging groups or hitting particularly evasive enemies like Tracer. Switch between the two depending on the situation.
The primary fire pierces Genji's Deflect and D.Va's Defense Matrix. Contrary to some reports, it does not ignore enemy armor.
Particle Barrier: When activated, Zarya will completely surround herself with a barrier for a brief period of time, absorbing a large amount of damage and making her immune to all negative effects (such as knockback or stun) while the barrier holds. Damage dealt to the Particle Barrier contributes to her Energy.

Be cautious when activating Particle Barrier. It has a lengthy cooldown time and a short duration, leaving Zarya vulnerable during the time when it's down. Don't activate it unless your enemies are already firing at you.
Particle Barrier is best used when you predict a sudden incoming burst of damage, such as running into a Reaper around a corner or when you see Junkrat's RIP-Tire getting within explosion range.
Zarya will receive knockback from any attack that pierce barriers. For example, if Zarya has a barrier on herself and is hit by one of Pharah's concussive blasts, she won't be affected, because the barrier blocked the effect. However, if Winston uses his ultimate and starts to swing at Zarya, it will now knock her back even if a protective barrier is active, since melee attacks pierce barriers.
Projected Barrier: When activated, Zarya grants the targeted ally a barrier that will completely surround them for a brief period of time, absorbing a large amount of damage and making them immune to all negative effects (such as knockback or stun) while the barrier holds. Damage dealt to the Particle Barrier contributes to Zarya's Energy. This ability autotargets the ally closest to Zarya's crosshairs.

Projected Barrier behaves otherwise identically to Particle Barrier in terms of damage absorption and immunity to negative effects.
Projected Barrier has 2-seconds faster cooldown than Particle Barrier, which means that you can use it more often than the other one.
Much like Particle Barrier, the short duration of Projected Barrier means that you must choose an ideal time to use it. Predict when an ally is about to take a large amount of damage and use it to both keep them alive and give yourself Energy.
Graviton Surge (Ultimate): Zarya's Ultimate ability. When activated, Zarya fires an energy projectile in an arc. When the projectile impacts a solid surface, it creates a temporary gravity well that continually pulls in all nearby enemies and deals damage over time to them. Movement abilities are disabled within the effect of Graviton Surge.

Although Graviton Surge is not a devastating Ultimate on its own, it is easily the most powerful Ultimate in the game when coordinated with other Ultimates.
The projectile from Graviton Surge is destroyed if it hits an enemy Zarya's barrier or D.Va's Defense Matrix, but if it hits Winston's or Reinhardt's barrier it will simply activate where struck. It is still not a good idea to fire it at those places, as they will lessen or negate your team's ability to combo with it.
General Strategies
When played poorly, Zarya contributes only average damage, mild absorption with her barriers, and her Ultimate. When played well, Zarya is able to cleave through teams with the damage provided by high Energy and can save both herself and a single teammate from otherwise certain death. Despite her power when played well, however, she's still somewhat lacking as a Tank when it comes to either blocking off a point (like Reinhardt) or disrupting the enemy team (like Winston). Consider pairing her up with either of them instead of going as your team's only Tank.
A good way to consistently gain Energy is to engage your opponents before activating Particle Barrier. Your enemies will have less time to react and stop hitting your barrier if they're already firing at you. Approaching your enemies and activating Particle Barrier immediately will likely cause them to simply retreat until the barrier is down before returning to firing at you.
Exploit the secondary fire of Particle Cannon by firing it at oncoming enemies and then ducking back in behind cover to avoid return fire. Despite being a Tank, Zarya can generally absorb less damage than the other Tanks, making cautious play important. You should ideally try to minimize the amount of time you're exposed to enemy fire while still threatening enemies who get too close with your presence.
Look for opportunities where you can predictably absorb damage with Particle Barrier, such as by running into the grenades from Junkrat's Frag Launcher or the attacks from several of Symmetra's Sentry Turrets. This will help you to maintain a higher level of Energy in order to threaten your opponents more effectively.
Both of Zarya's barriers act like a separate health pool, If used to block high damage ults from heroes like Tracer, D.va, or Junkrat it will totally negate the damage and likely instantly bring you to full charge, but only if it stays active at the time of the explosion. This can also be exploited to save squishier heroes from such ultimates, if they are close enough and you have the reaction time.
Using a particle barrier while being frozen by Mei's Endothermic Blaster or Blizzard will free the player from the slowing effects of freezing. Use this right before a Mei completes a freeze on a player to surprise the Mei and force her to retreat or use her Cryo-Freeze. Additionally, this can be used to free players trapped in Mei's Blizzard, as it gives 2 seconds for Zarya or a shielded player to leave the radius of the ultimate unslowed.
A substantial portion of Zarya's Health is composed of shields. When you see yourself getting below 50% Health, duck into cover to give your shields time to regenerate. This will allow you to keep fighting far longer than staying out in the open constantly will.
Projected Barrier is one of Zarya's strongest abilities. It gives a single ally a substantial increase in Health, allowing them to absorb more fire than normal, as well as giving you Energy. Allies like Reaper and Roadhog benefit immensely from Projected Barrier, especially when they are using channeled Ultimates, as it will stop them from being interrupted temporarily. An ally Reinhardt holding up a barrier can also be a good Projected Barrier target, as all damage that would be absorbed by his barrier is instead absorbed by Zarya's barrier. It can also save an ally like Mercy from being killed by enemy flankers if applied in time. Rather than throwing it out randomly, consider the enemy team's composition and position and decide whether throwing it on an ally for extra Energy is better than saving it in case of a flank by an enemy hero like Genji.
Graviton Surge is one of the trickiest Ultimates in the game to use correctly, but is devastating when deployed at the right time. It is also one of the slowest-charging Ultimates of any hero, making proper use of it critical. In general, pay attention to the Assault heroes on your team and wait for their Ultimates to be up before deploying Graviton Surge. Try to fire the projectile so that it will land in the center of the enemy team in order to catch as many of them as possible. When combined with an Ultimate like Reaper's Death Blossom or Pharah's Barrage, you can easily wipe out entire enemy teams in a single blow. Using it when none of your allies have their Ultimates will usually result in only one or two kills at the most, or possibly even no kills if the enemy team has a Reinhardt blocking most of the damage.
Story

"Together we are strong."
Aleksandra Zaryanova is one of the world's strongest women, a celebrated athlete who sacrificed personal glory to protect her family, friends, and country in a time of war.[1] As a soldier in the Russian Defense Forces, she is proud to use her strength to protect the ones she loves.[2]
Zarya is distrustful of omnics, even those who seek co-existence with humanity.[3] One of her personal heroes is Vasily Alekseyev. She enjoys eating cabbage pierogis.[4]
Background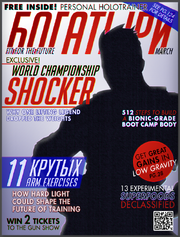 Aleksandra was born in a remote Siberian village that was on the front lines of the Omnic Crisis, which began some thirty years ago. Although Russian forces defeated the omnics and shut down their omnium, the region was devastated by the conflict. Only a child at the time, Aleksandra was surrounded by the post-war destruction, and as she grew older, she swore that she would gain the strength to help her people recover.
Focusing on weightlifting and bodybuilding, Aleksandra was identified by the national athletics program as a potential star. She trained extensively, moving up the ranks while representing her country, and was expected to shatter longstanding records in the upcoming world championships.
But on the eve of the tournament, an attack came from the long-dormant Siberian omnium, and her village was thrust into war once again. Aleksandra immediately withdrew from the competition and rushed home to enlist in the local defense forces, sacrificing the life of fame and fortune she might have had.[1] The magazine Богатыри reported on her departure.[5] Now a member of the Russian Defense Forces, Zarya was deployed to the Krasnoyarsk front in Siberia.[6] Serving as a soldier, Zarya became a symbol to some, a stalwart fellow soldier to others. But for Zarya, it was a chance to use her great strength to protect the ones she loves.[1]
As the Siberian omnium continued its attacks, Atlas News interviewed Zarya.[7]
A New Assignment
"
Do you know why you are here?
I believe I do.
"
~ Katya Volskaya to Zarya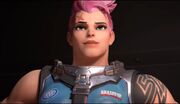 After a trio of Talon agents tried to assassinate Katya Volskaya of Volskaya Industries, Zarya was summoned to her office. After being asked whether she knew why she was here, Zarya responded that she believed she did.[8]
Achievements
| Name | Icon | Description | Reward |
| --- | --- | --- | --- |
| Power Overwhelming | | Keep Zarya's Particle Cannon above 70 power for 60 seconds in Quick or Competitive play. | Pixel |
| The Power Of Attraction | | Capture 5 enemies in a single use of Zarya's Graviton Surge in Quick or Competitive play. | Cute |
Trivia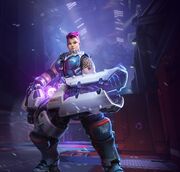 Zarja (заря) is a Russian word for "dawn".[9]
Zarya's particle cannon was ripped from the hull of an armored vehicle during battle, and is too heavy for most soldiers to carry. Her gloves conduct and amplify the energy flowing through it.[10]
Zarya's design emerged from player demand for a greater diversity of genders, body types, and ethnicities.[11]
With her hairstyle, she bears resemblance to a Russian Blizzard employee, Tamara Bakhlycheva. It's unknown whether it was intentional or not.
The 512 tattoo on her shoulder is apparently her weightlifting record; two of her sprays depict a 512kg set of weights. This is a higher record than any woman's set in the Olympics to date, though not the highest ever recorded (although under the current format it exceeds all present records).[12]
Zarya is the only character in the game whose melee animation differs if viewed in 1st person versus 3rd person.
Zarya is a playable character in Heroes of the Storm, as a ranged Warrior class hero. Her abilities are almost completely preserved from Overwatch, apart from her second ult called 'Expulsion Zone' that deals damage and pushes enemy heroes away from an area.[13]
Videos
Official
Curse
Patch Notes History
For more information, see Patch Notes
July 27th, 2017
Hero Balance Change
Graviton Surge

Now disables mobility abilities on all affected targets
Developer Comment
In the past, the abilities that allowed heroes to escape Zarya's Graviton Surge felt fairly arbitrary. We're cleaning this up and increasing Graviton Surge's overall power by rendering all movement abilities unusable when an enemy is trapped.
December 13th, 2016
Hero Balance Change
Particle Barrier/Projected Barrier

Attacks like Reinhardt's Fire Strike or Hanzo's Dragonstrike that deal damage to both the barrier and the hero within the barrier, no longer deal damage to the barrier twice
Developer Comments

This is a bug fix, but we think it's significant enough to warrant a separate note. We've had a long-standing bug that caused "piercing" damage to hit Zarya's barrier twice. Sometimes this benefited Zarya (for example, jumping in front of Reinhardt's Fire Strike was a good way to generate a large amount of energy quickly), and sometimes it really hurt her (Genji's Dragonblade, for example, would cut through her shield in one swing, instead of two). This change isn't intended to buff or a nerf to Zarya. We're simply trying get her abilities working as they should, and we'll keep an eye on how it affects her balance.
November 15th, 2016
Hero Balance Change
Ultimate costs have been increased by 25% for all heroes
Developer Comment

Game-changing ultimate abilities were coming up a bit too frequently. This change helps keep them in check while still allowing them to be powerful.
Particle Barrier

Power gained from barriers decreased by 20%

Projected Barrier

Power gained from barriers decreased by 20%
Developer Comment

Considering her potential damage output, Zarya was starting to feel like a mandatory pick in most situations. Rather than reduce her damage output, this change makes achieving her maximum power and damage output slightly more difficult.
Bug Fixes

Heroes
Fixed a bug preventing Zarya from gripping her gun's handle in the "Deadlift" highlight Intro
Fixed a bug causing Zarya's Graviton Surge to eject Reinhardt at high velocity
July 19,2016
Bug Fixes

Heroes
[PC Only] Fixed a bug that sometimes caused Zarya's alternate fire to scale incorrectly with her damage boost modifier
June 21, 2016
Bug Fixes

General
Fixed a bug that would sometimes cause projectiles to hit Reinhardt instead of his Barrier Field in "High Bandwidth" Custom Games
Reduced the chance for larger projectiles (i.e. Hanzo's arrows, Zenyatta's orbs) to hit targets around corners
References
External links
Heroes in Overwatch

 


D.Va

Orisa

Reinhardt

Roadhog

Sigma

Winston

Wrecking Ball

Zarya

Ashe

Bastion

Doomfist

Echo

Genji

Hanzo

Junkrat

McCree

Mei

Pharah

Reaper

Soldier: 76

Sombra

Symmetra

Torbjörn

Tracer

Widowmaker

Ana

Baptiste

Brigitte

Lúcio

Mercy

Moira

Zenyatta